SENQ MEGURO
Project Management / Design / Construction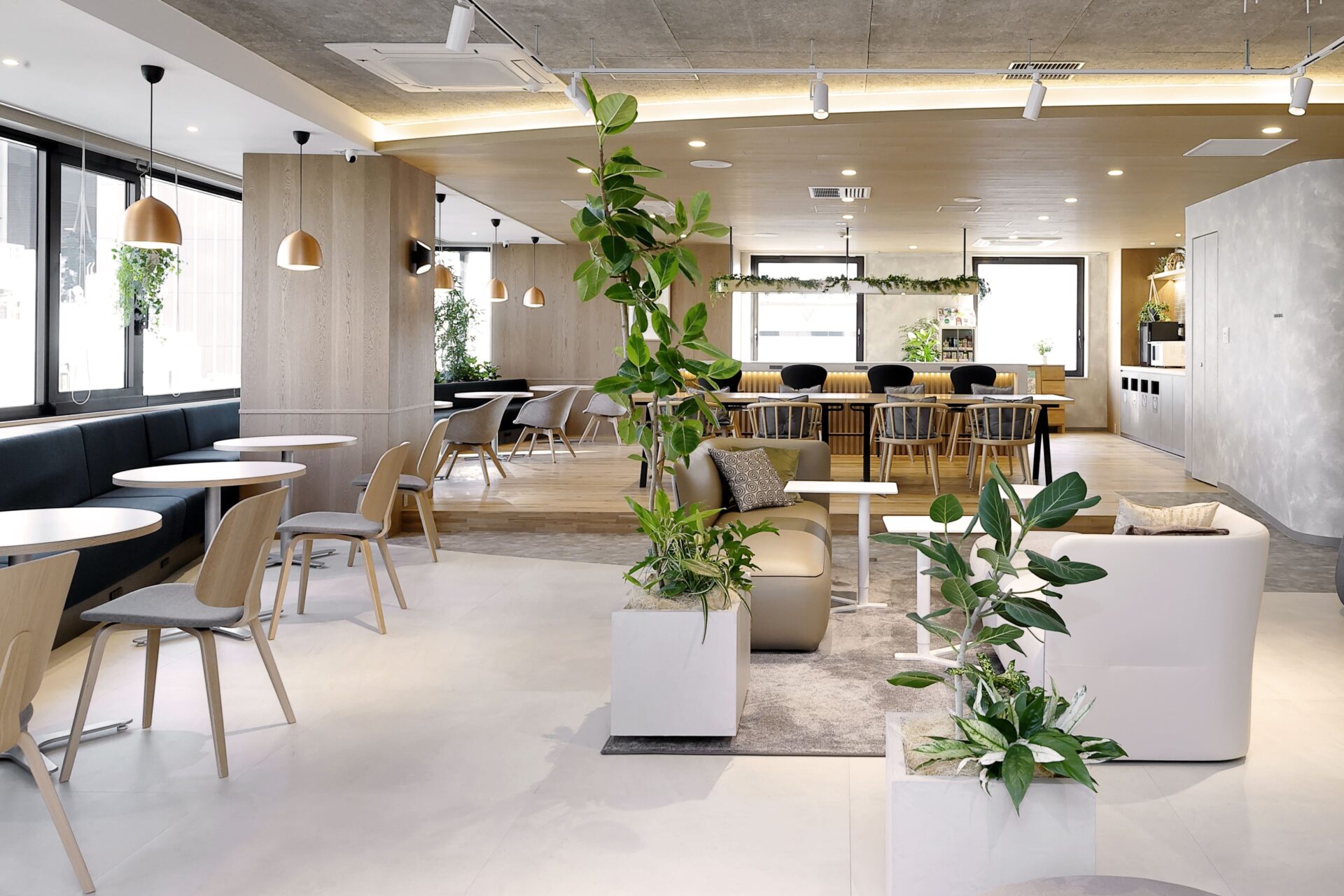 Making the time at work more like "being at home"—a third place established in Meguro, a town where living and working exist side by side
Following the ones in Kasumigaseki and Roppongi, SENQ Meguro office was established as the 6th one of the SENQ—a series of open innovation office spaces run by Chuo-Nittochi Co., Ltd.. Located in Meguro, a town where office buildings and residential houses coexist, SENQ Meguro functions as a comfortable third place, allowing every single user to feel at home while working.
CONCEPT
Each office space of the SENQ series has its own theme depending on the characteristics of its local area. For SENQ Meguro, the theme set out was "Lifestyle Office – Advanced lifestyle". Based on the theme, and by adding and incorporating our unique design and ideas, we worked with the client to expand on what it's really like to feel at home while working.
PLANNING
In this project, we didn't simply create a space which makes the time at work more like being at home and which allows the users to relax as if they are in their own living or dining rooms. By purposefully incorporating sleek lines and R-shapes and by creating a "sense of fluctuation" throughout the space, we proposed a kind of a third place, a place neither an office nor a home, that would stimulate people's sensibility. We also proposed an IT solution, one of Frontier Consulting's strengths, and incorporated an advanced facility equipment plan.
DESIGN
Since it is located in Meguro, we expected that it would attract people with specific preferences for their individual lifestyles. To make it a third place that would accommodate such needs, we heightened the quality of the space by incorporating the genuine texture of natural wood and mortar and by placing stylish lighting and furniture such as stools and couches. Moreover, we tried to create a relaxing and comfortable space by arranging real plants in the space colored mainly with shades of gray.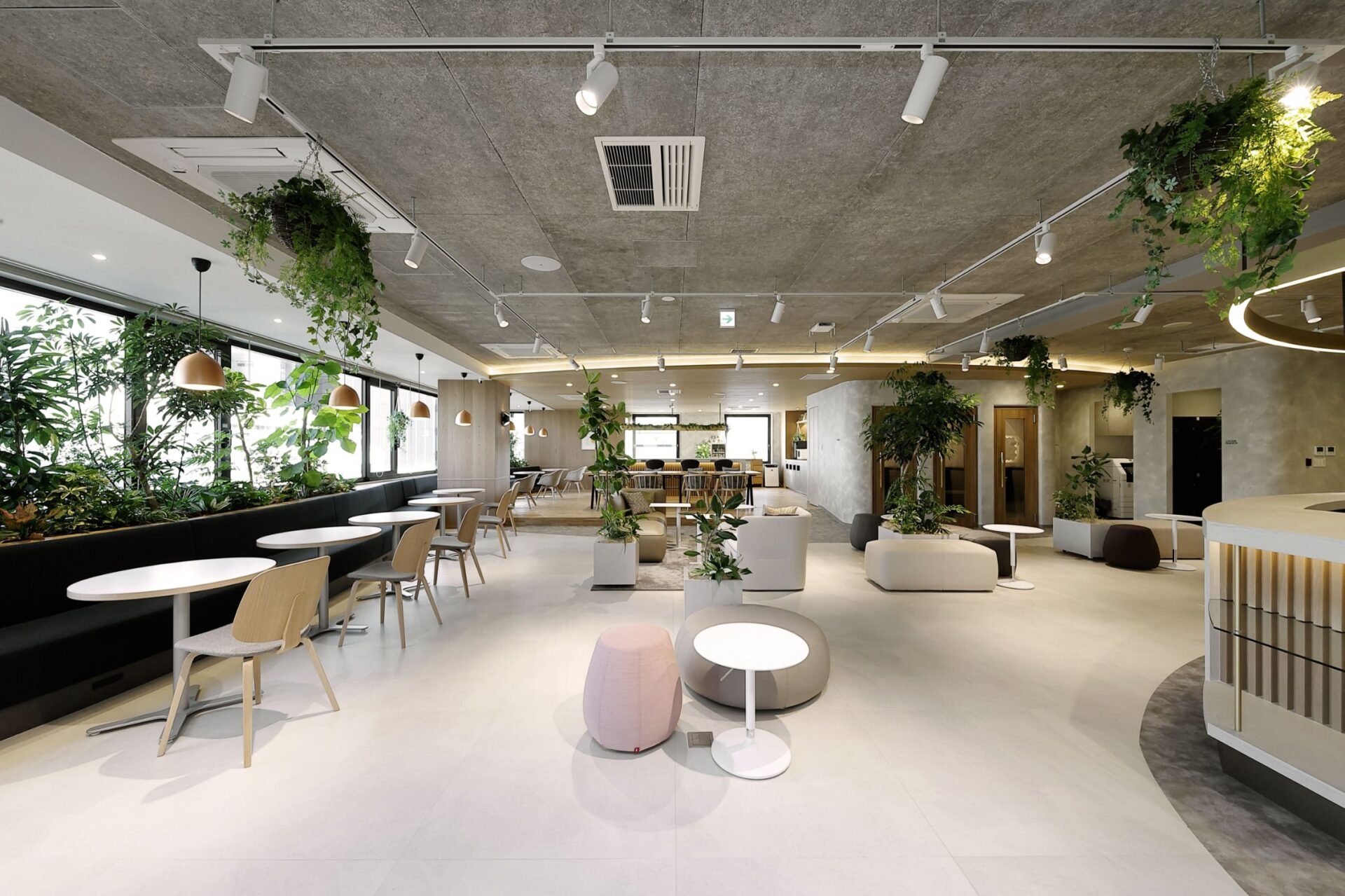 We expressed a "sense of fluctuation" by incorporating sleek lines and R-shaped design, such as the bench moderately curved along the plants by the windows as well as the R-shaped dropped ceiling, creating a space that would stimulate the sensibility of the users.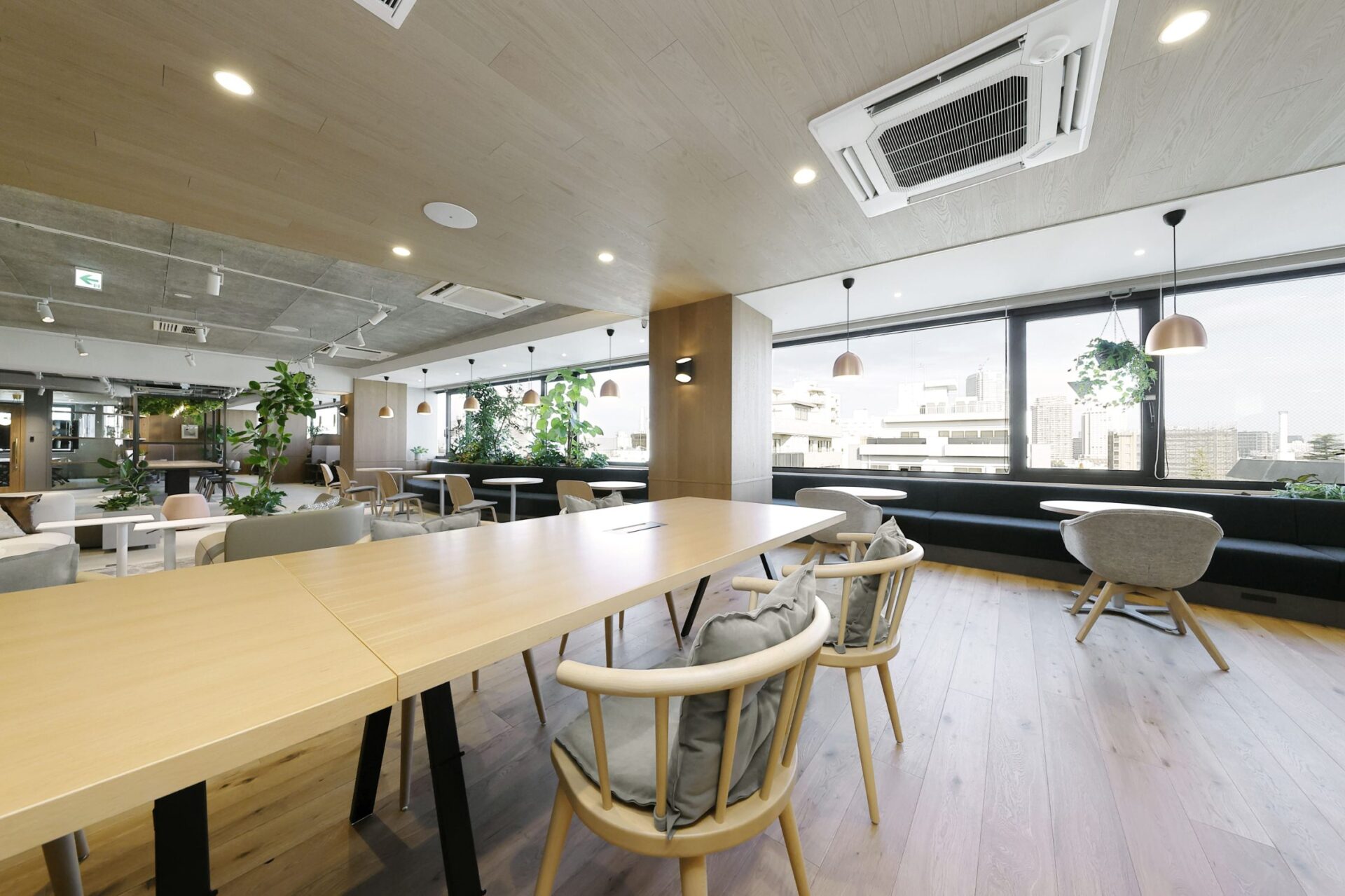 Taking advantage of the fantastic view outside, we constructed the layout carefully so as to allow the users to work comfortably while enjoying the gentle sunlight and a sense of refreshment through the windows no matter where they are.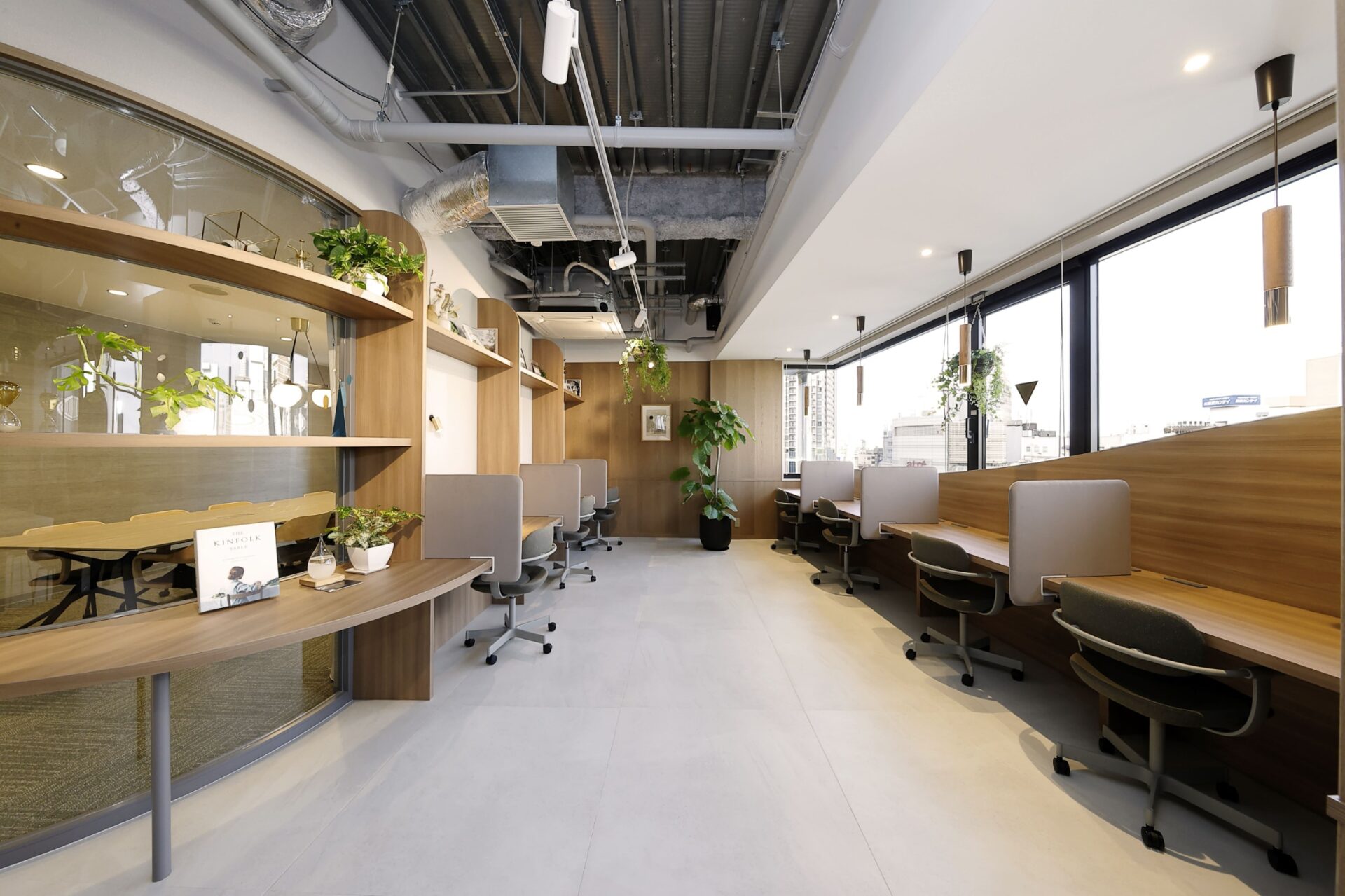 With plants and small interior decorations placed on the woodgrain table and the decorative shelf installed along the R-shaped glass of the meeting room, the relaxing space makes you feel at home. The sinuous woodgrain panels installed by the windows also create a "sense of fluctuation".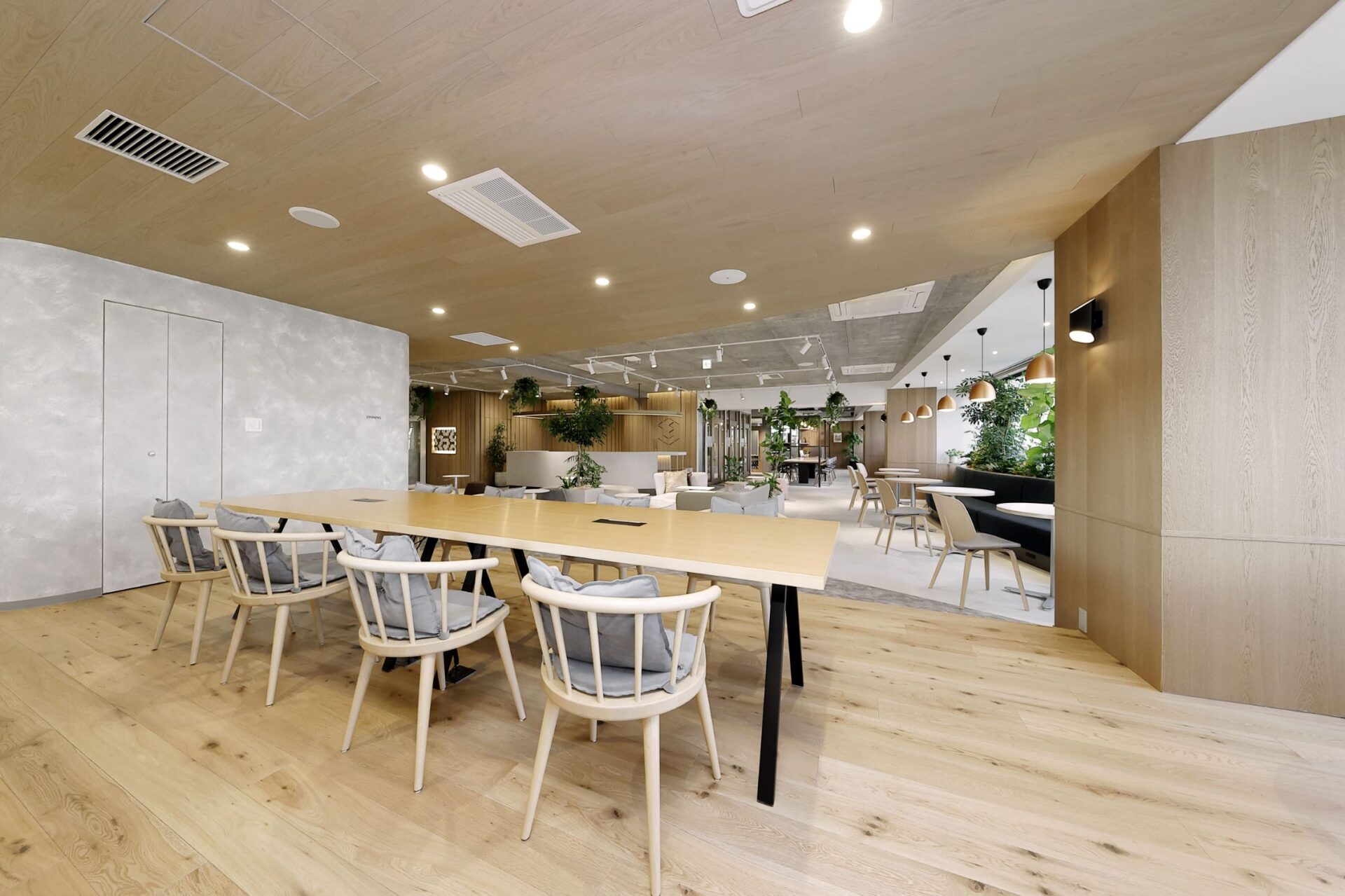 For the wood floored section called "Dining", where there is a drink counter, we purposefully constructed a dropped ceiling and a raised floor so as to give the space a ceiling height almost same as those of standard houses, creating a relaxed mood of being at home and giving accent to the entire space.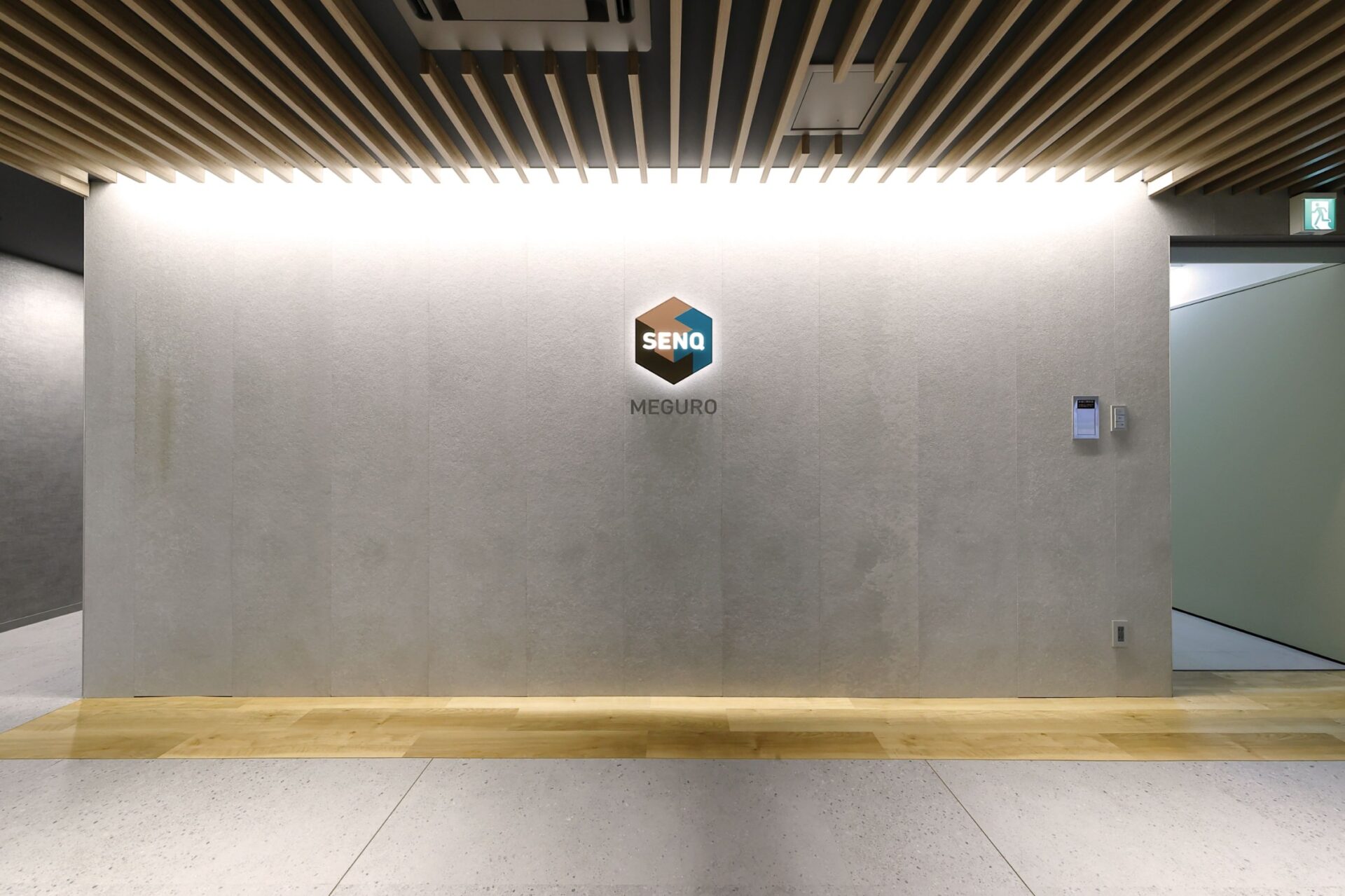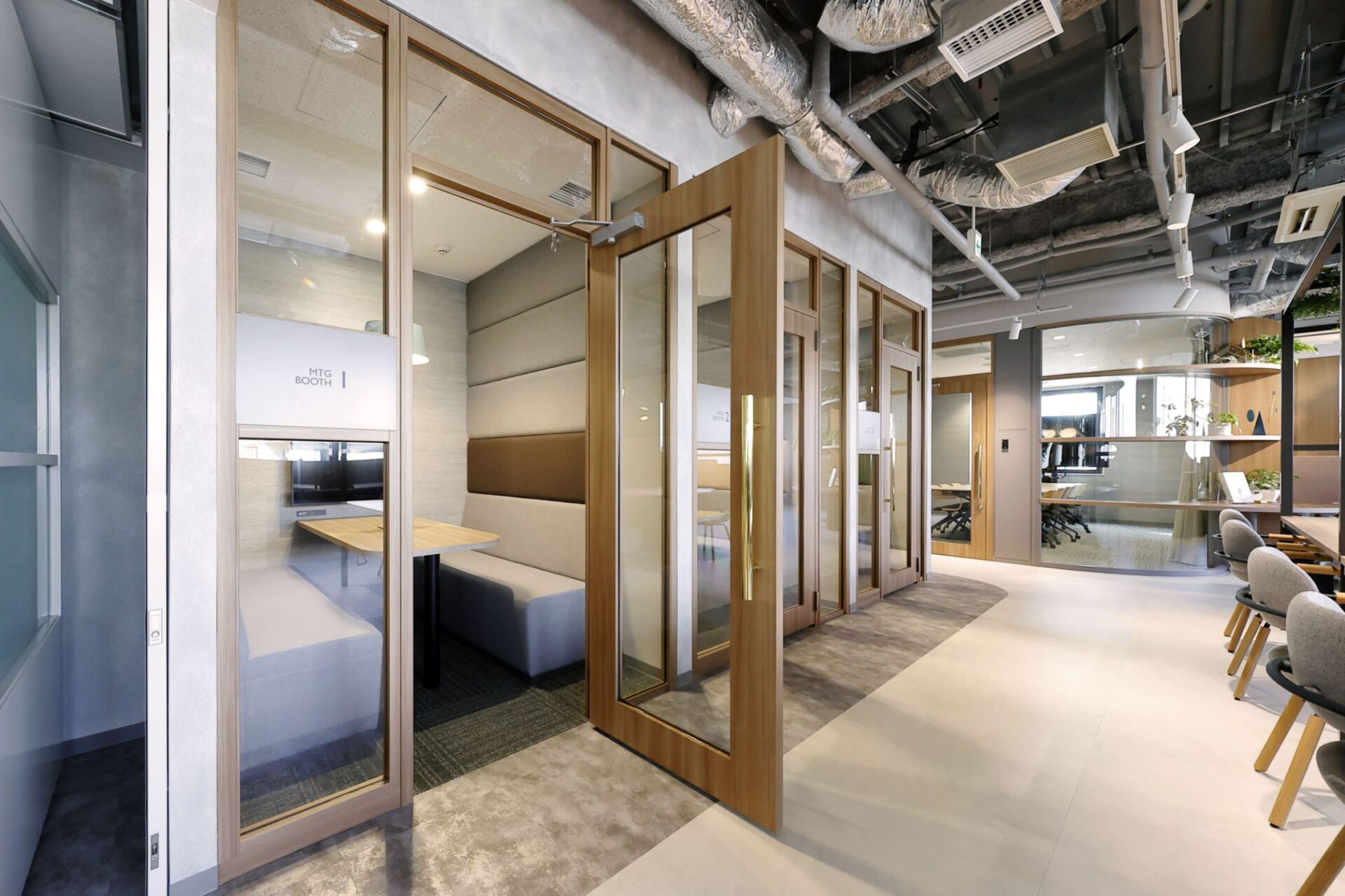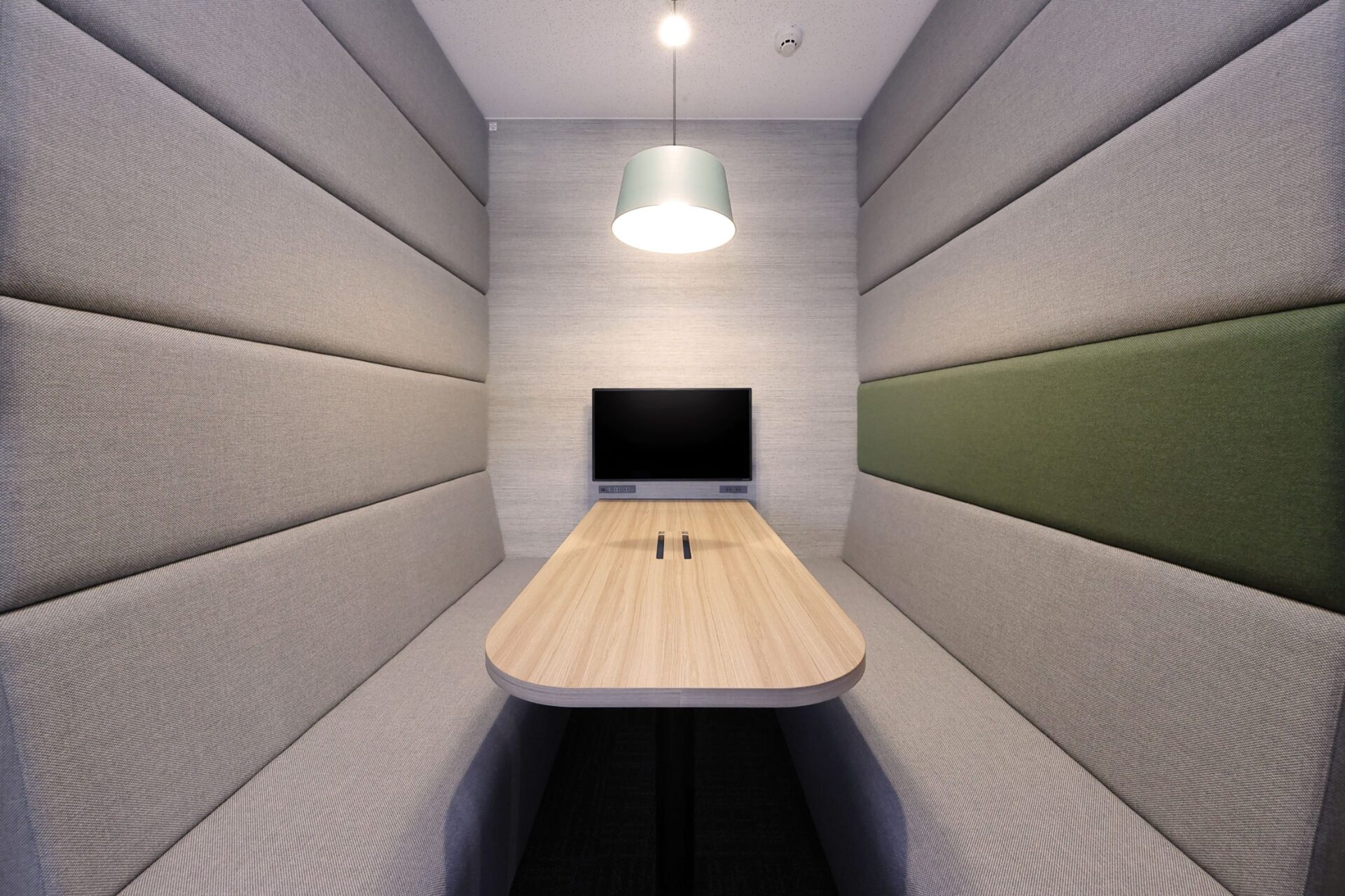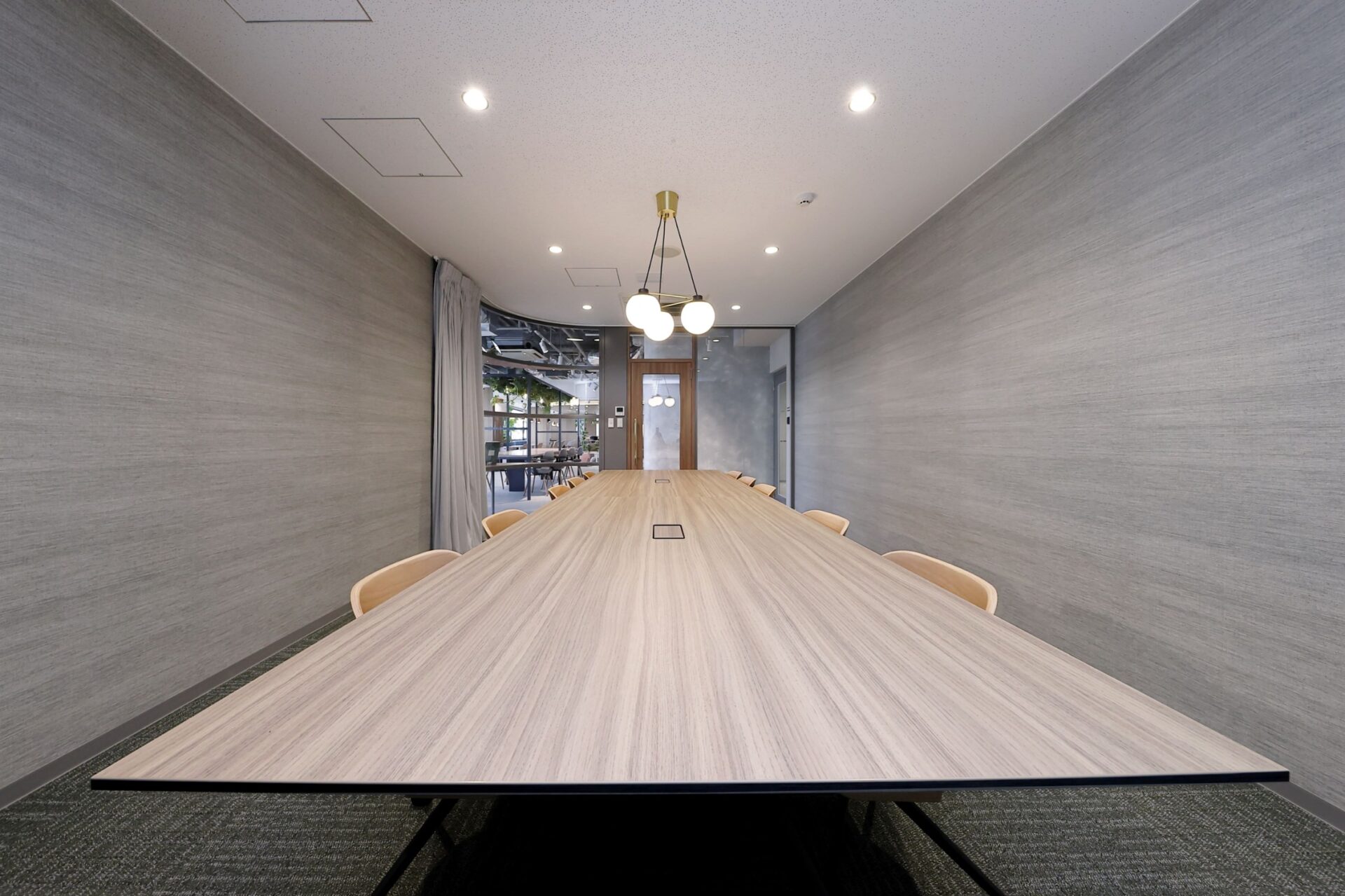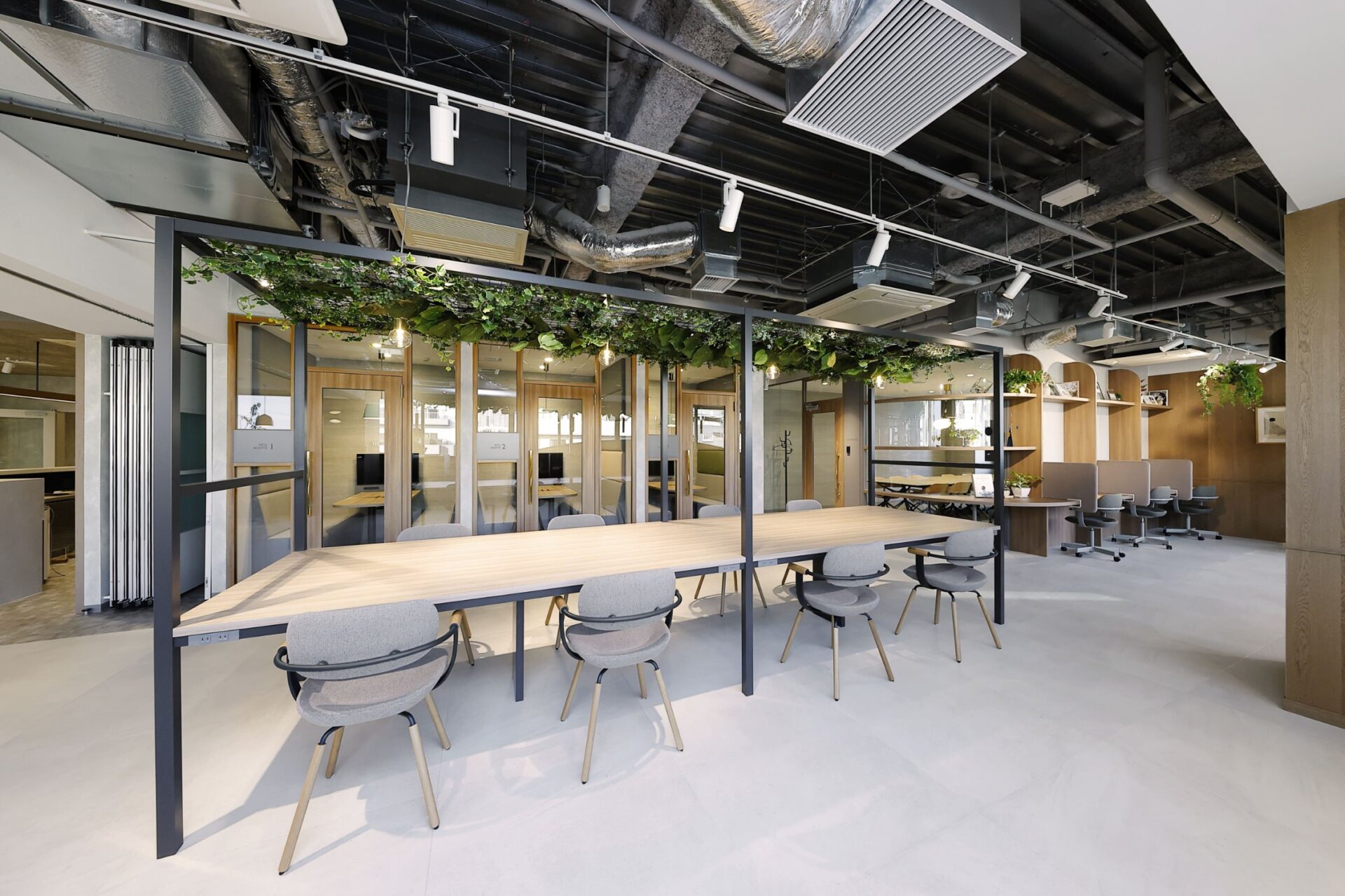 LAUNCH
We successfully turned the concept of "Lifestyle Office – Advanced lifestyle" into reality. We also received positive comments from the client such as, "it is a comfortable space just as depicted in the perspective drawings," "I want to use it too," and "I want to work here" (the last comment came from a staff member of another SENQ office). Also for those who are going to use SENQ Meguro as their third place, we think we succeeded in creating a sense of assurance that there is such a place in Meguro, other than offices, home, or nearby cafés, where they can work comfortably while interacting with people from other companies.
PROJECT FLOW
Clarification of requirements

We visited all four SENQ offices in Tokyo and interviewed the people there about the characteristics and usability of each office. At the same time, we conducted research on the rental office space market. We had our project members visit the properties with the client and asked the client on-site about the facility concept, target users, etc. that they had in mind.

Basic plan

We held regular meetings with the client every week. Using presentations as a foundation for our proposal, we gradually gave shape to the project by revising the layout, number of rooms, and design while always taking into account the management and use after completion.

Implementation design

We solved the issues in using the existing equipment as well as the issues related to the building laws and regulations. While maintaining the spatial design and the overall concept presented in our initial proposal, we made changes to accommodate the requests of the client.

Work environment development

We worked closely with relevant companies by holding regular meetings every week. We completed the construction of the property without any serious accidents.
PROJECT DATA
Client: Chuo-Nittochi Group Co., Ltd.
Project: SENQ Meguro
Business: 3rd Place Construction
Role: Project Management / Design / Construction
Completion Date: 2021.11
Size: 669㎡
Location: Meguro-ku, Tokyo
CREDIT
Project Management

Frontier Consulting Co., Ltd.
Design

Frontier Consulting Co., Ltd.
Construction

Frontier Consulting Co., Ltd.
Photograph

Nagano Design Studio Inc.
BACK TO ALL
CONTACT
If this project got you interested, please do not hesitate to contact us.
Our specialized staff will be glad to answer any of your questions.