CROSS POINT IIDABASHI
Project Management / Design / Construction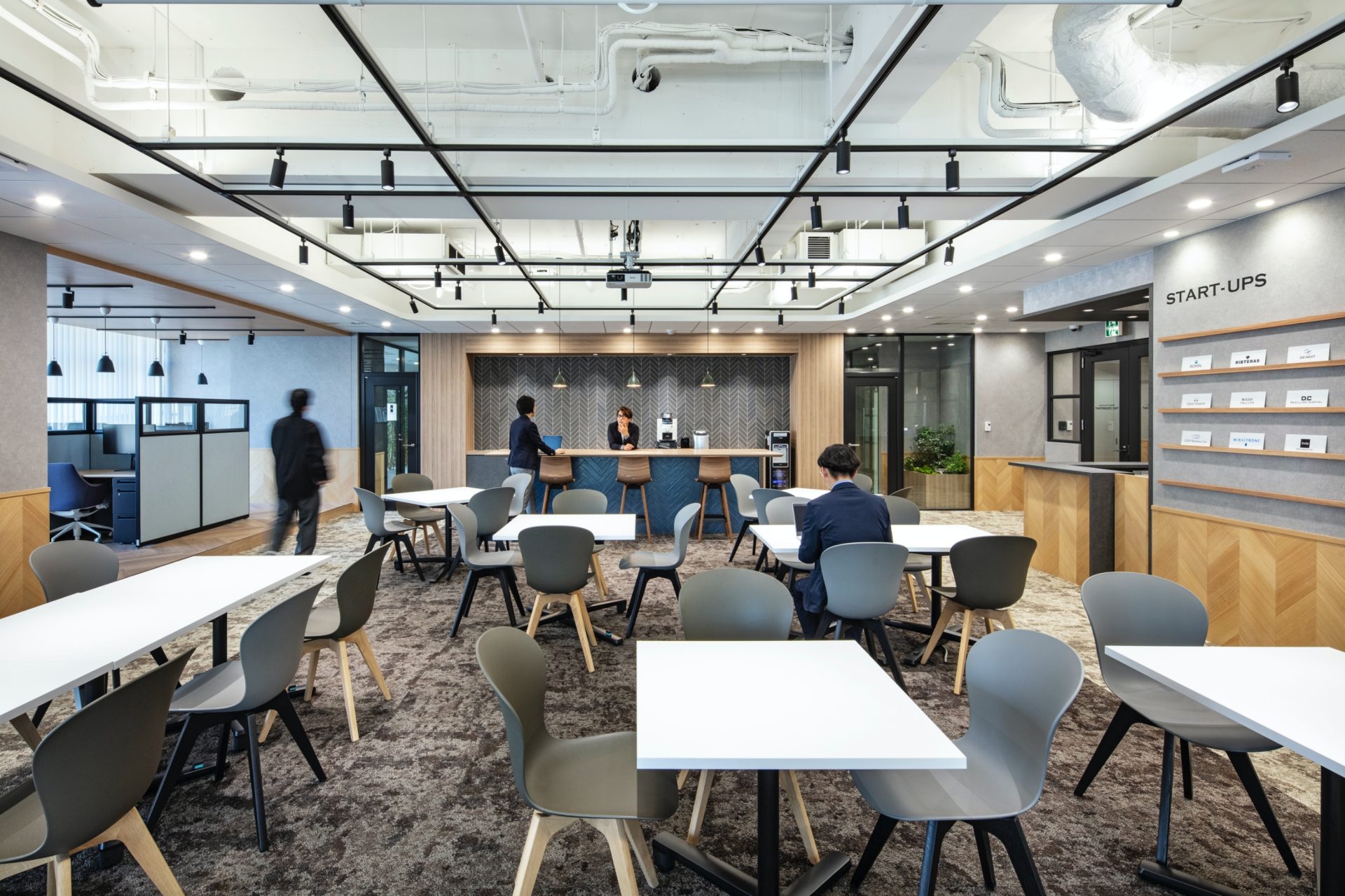 A "third workplace", neither a central office nor a home, developed to be a site for creating innovations
In this project, we designed "The Cross Point Iidabashi", a business incubation office which is run by Tokyo University of Science Investment Management Co., Ltd. to support industry-academia collaborations, mentoring, networking and so on. With the design, we expressed the facility's mission to "build a venture ecosystem" by functioning as a crossing point where diverse people meet, work together, and exchange ideas and thoughts.
CONCEPT
A business incubation office is a platform for facilitating the creation of new innovations by fostering startups and entrepreneurs. The client wanted to make the facility a place that helps diverse users move forward toward their next stage by allowing them to work in individual rooms or sometimes to meet and develop relations with others at the lounge, for example. To reflect the vision, we set out a concept of "For the Next Step" for this project.
PLANNING
Since the client is a group company of a university, we thought that the main users would be students, graduates, and entrepreneurs in their 20s. However, instead of creating a casual atmosphere, we proposed a rather formal atmosphere with no frills so that the users could use it for important occasions such as business negotiations as their businesses expand. We wanted the users to be able to see the growth and success of other users and eventually inspire one another, so we used glass partitions for the individual rooms.
DESIGN
The spacious shared lounge area with an exposed ceiling and curves has been designed as a space that would symbolize "The Cross Point Iidabashi" and that would also make guests feel the openness. The herringbone patterns used in different places using a variety of materials look like upward arrows which represent the users moving forward to their next stage through the creation of innovations.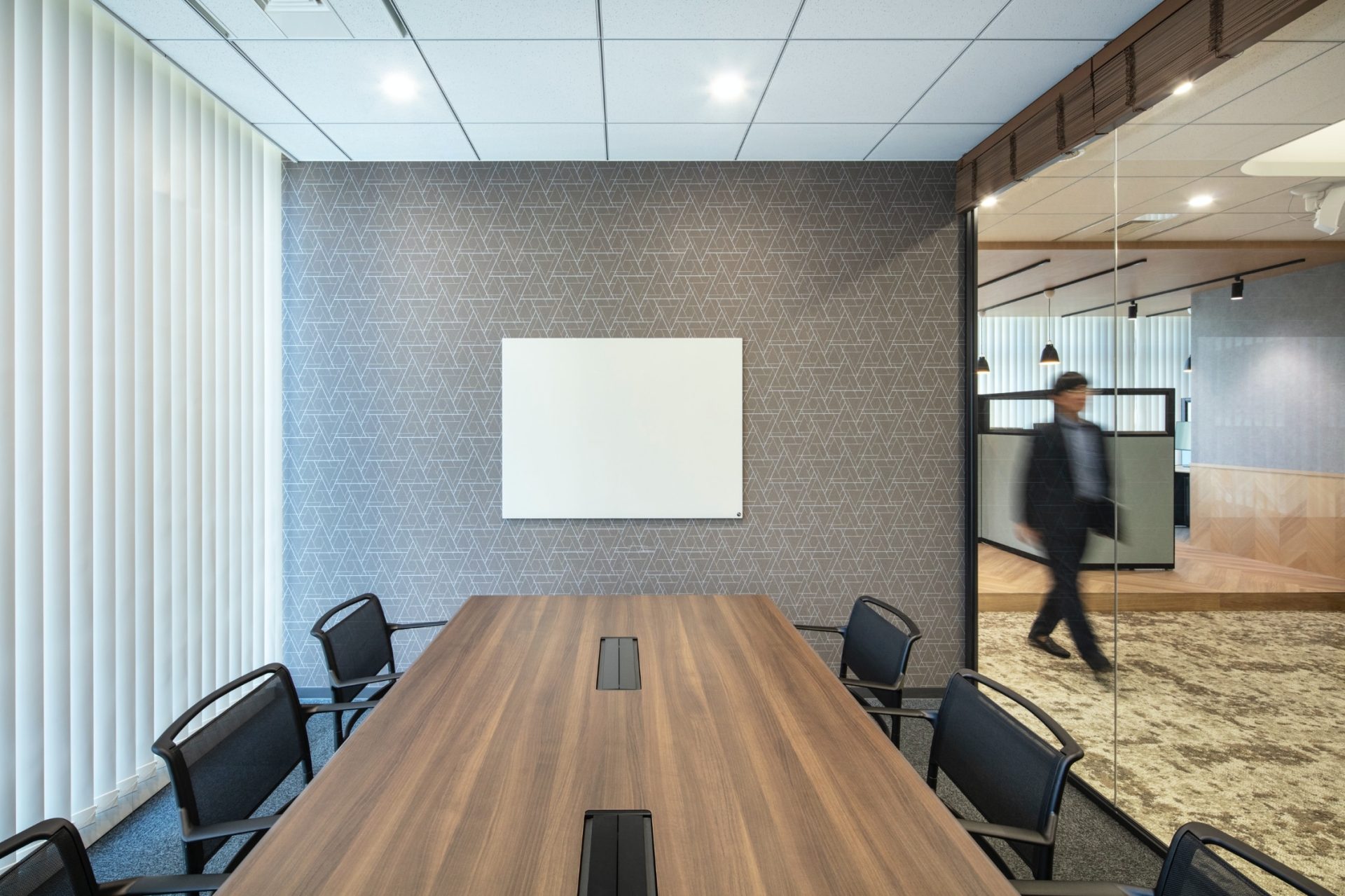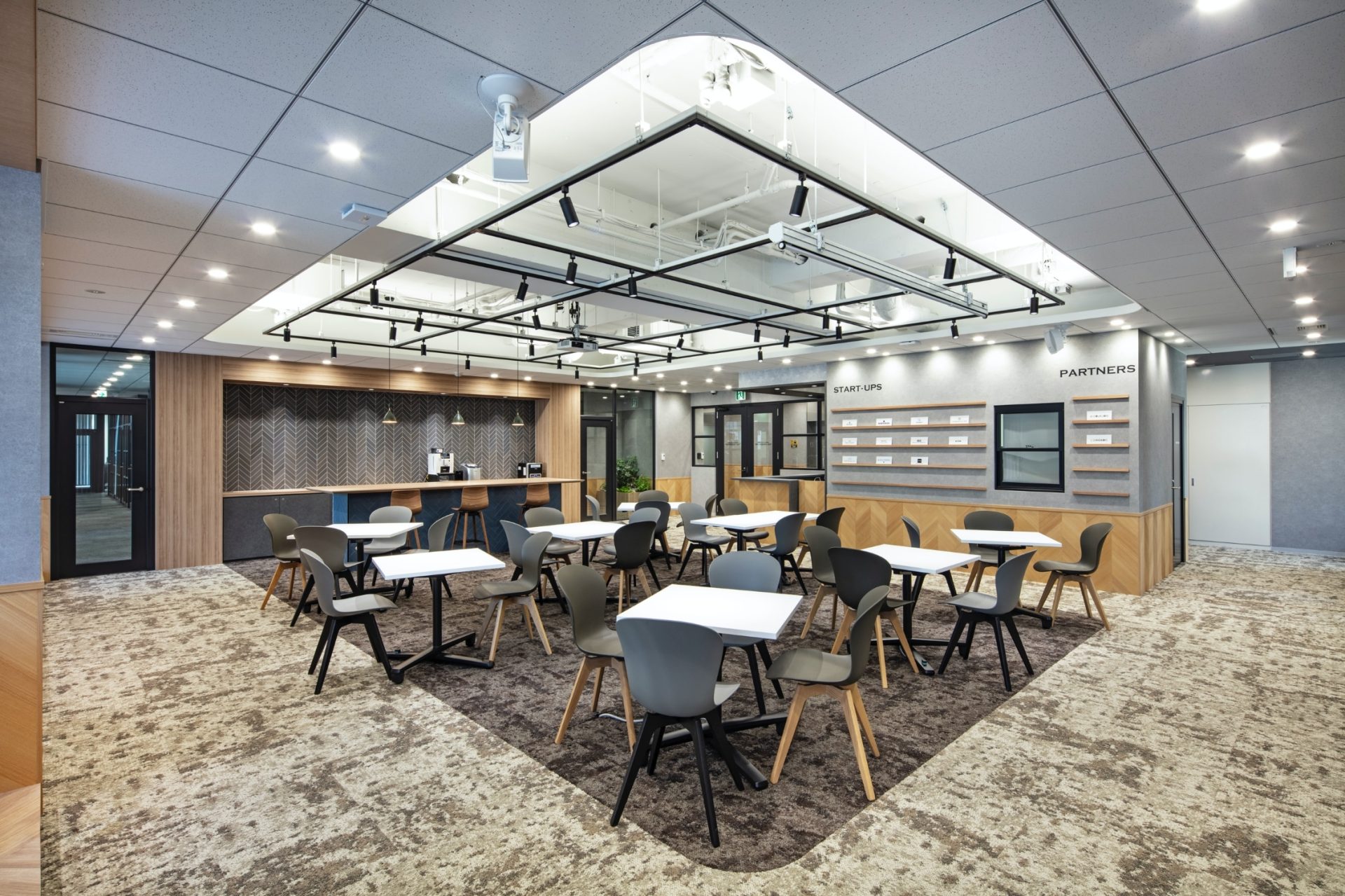 The shared lounge area, which could also be used for the meetings with guests, is the public face of The Cross Point Iidabashi. Meeting rooms, which ensure a higher level of privacy and confidentiality, adjoin the lounge area.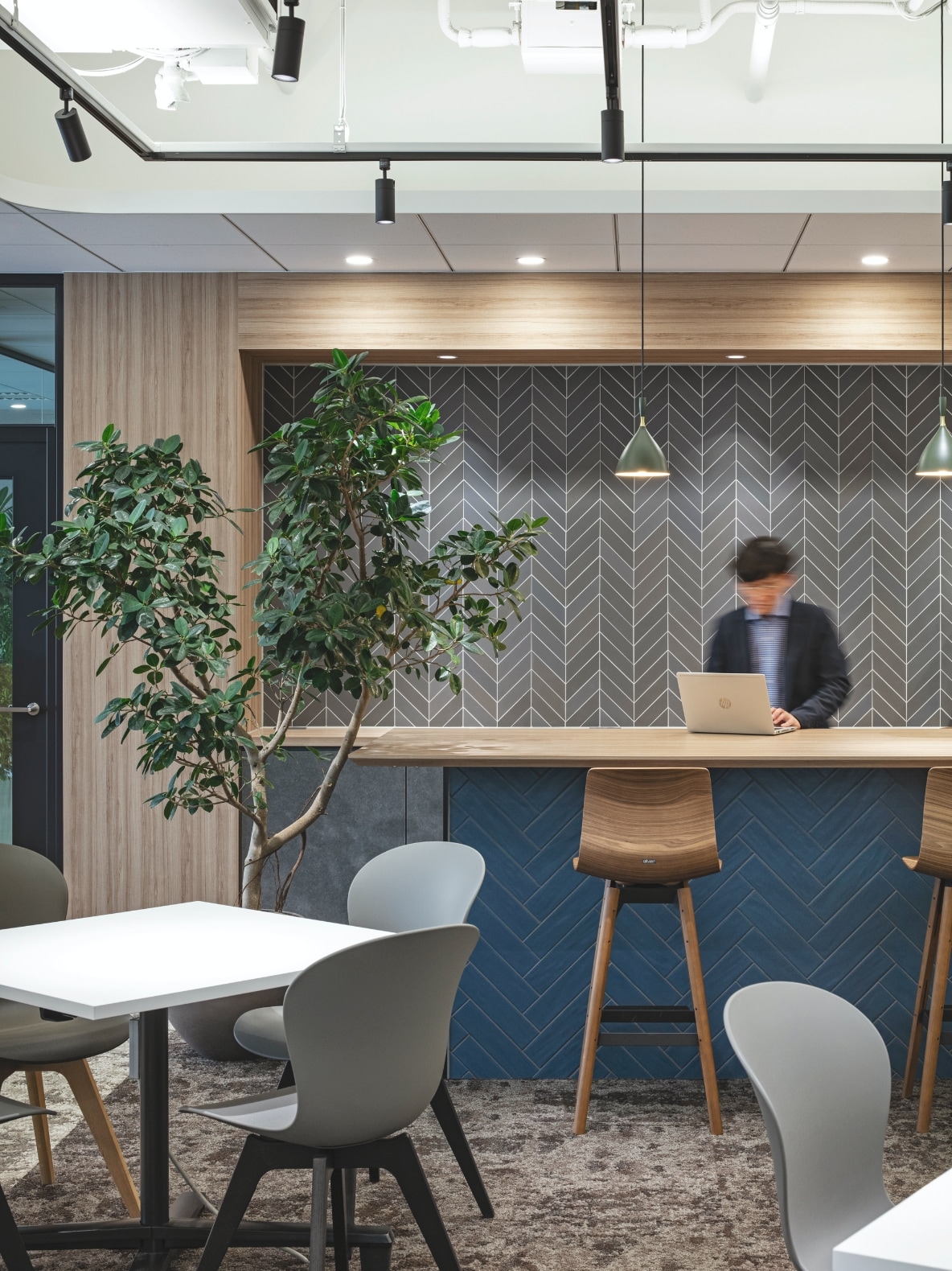 The herringbone patterns are used for the entrance as well.
They create a sense of unity in the space, in which different types of layered materials are used together.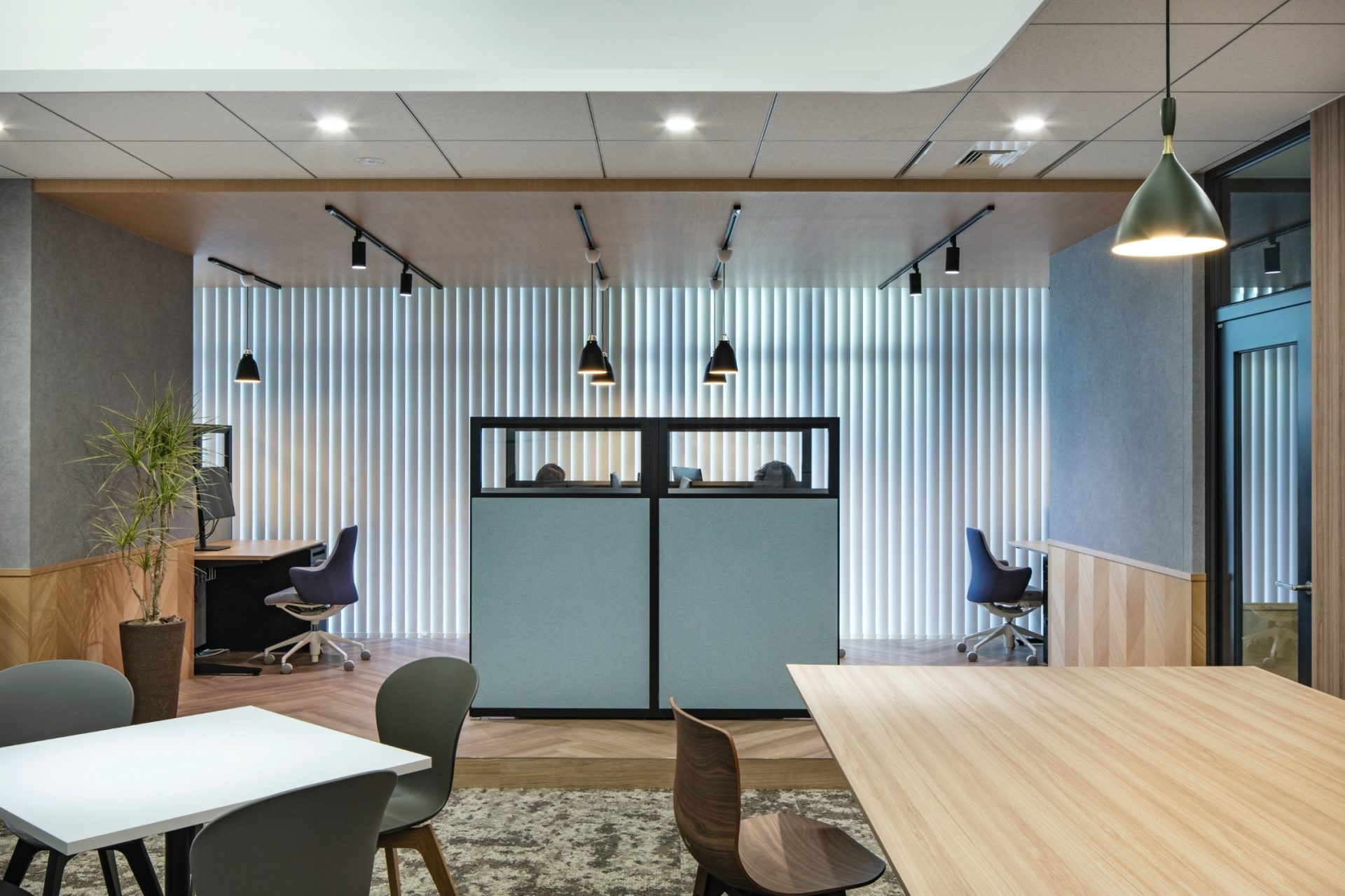 These seats for solo work are located next to the shared lounge area. We used glass for the upper part of the low partitions to create a sense of spatial extension.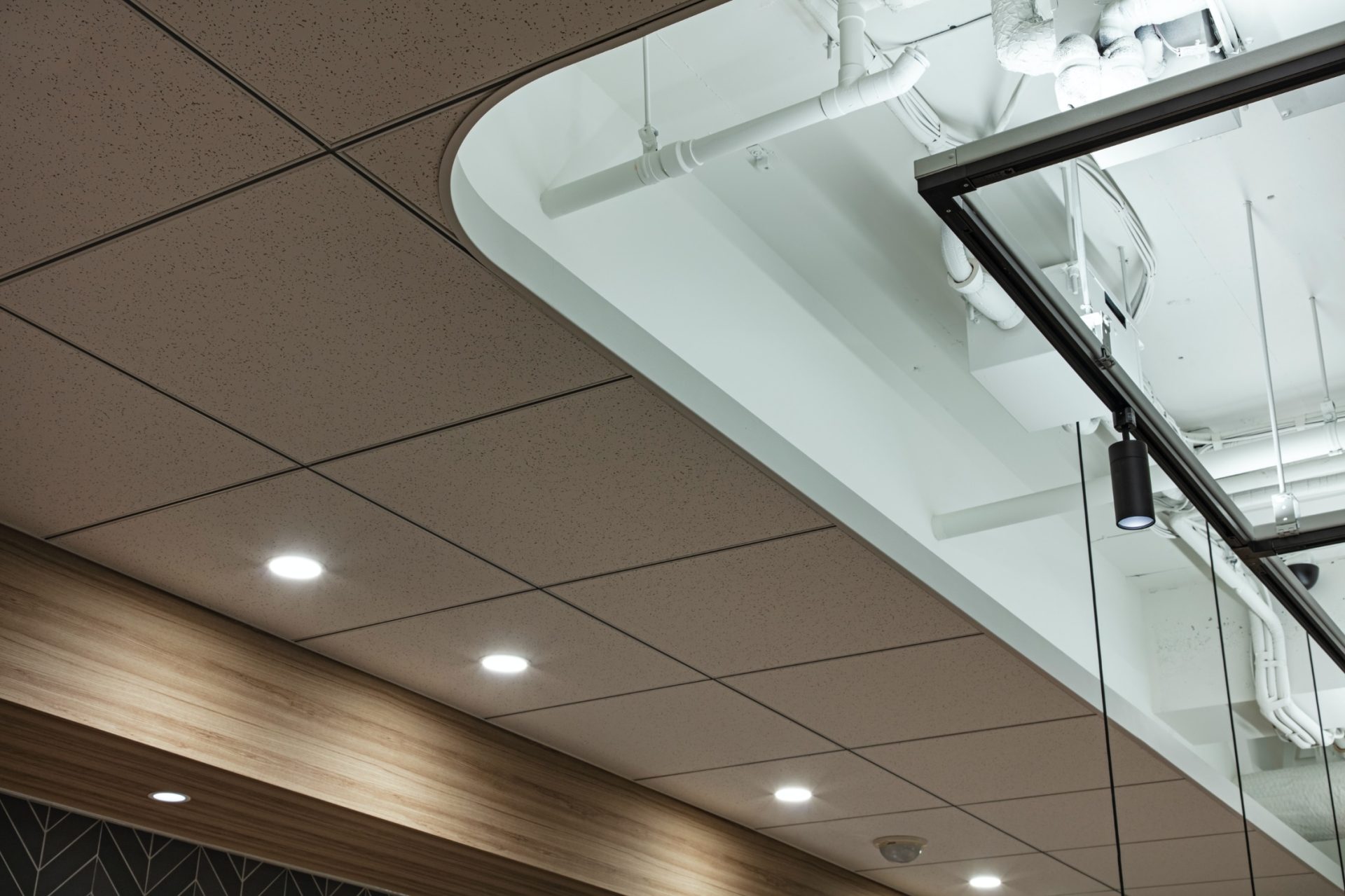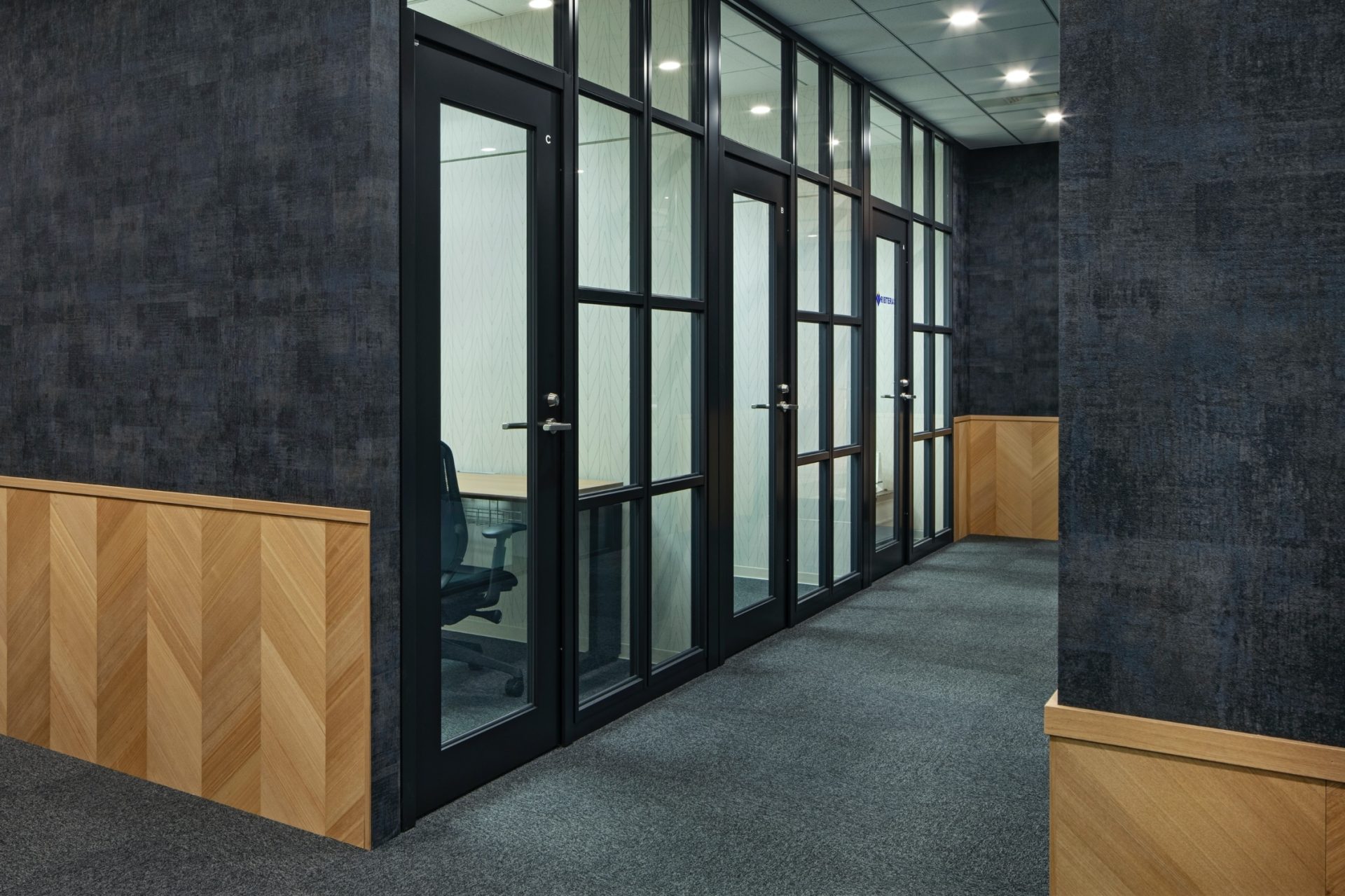 This is a couch area set up in a part of the workspace where there are individual rooms. It is perfect for taking a break or enjoying spontaneous encounters with other users.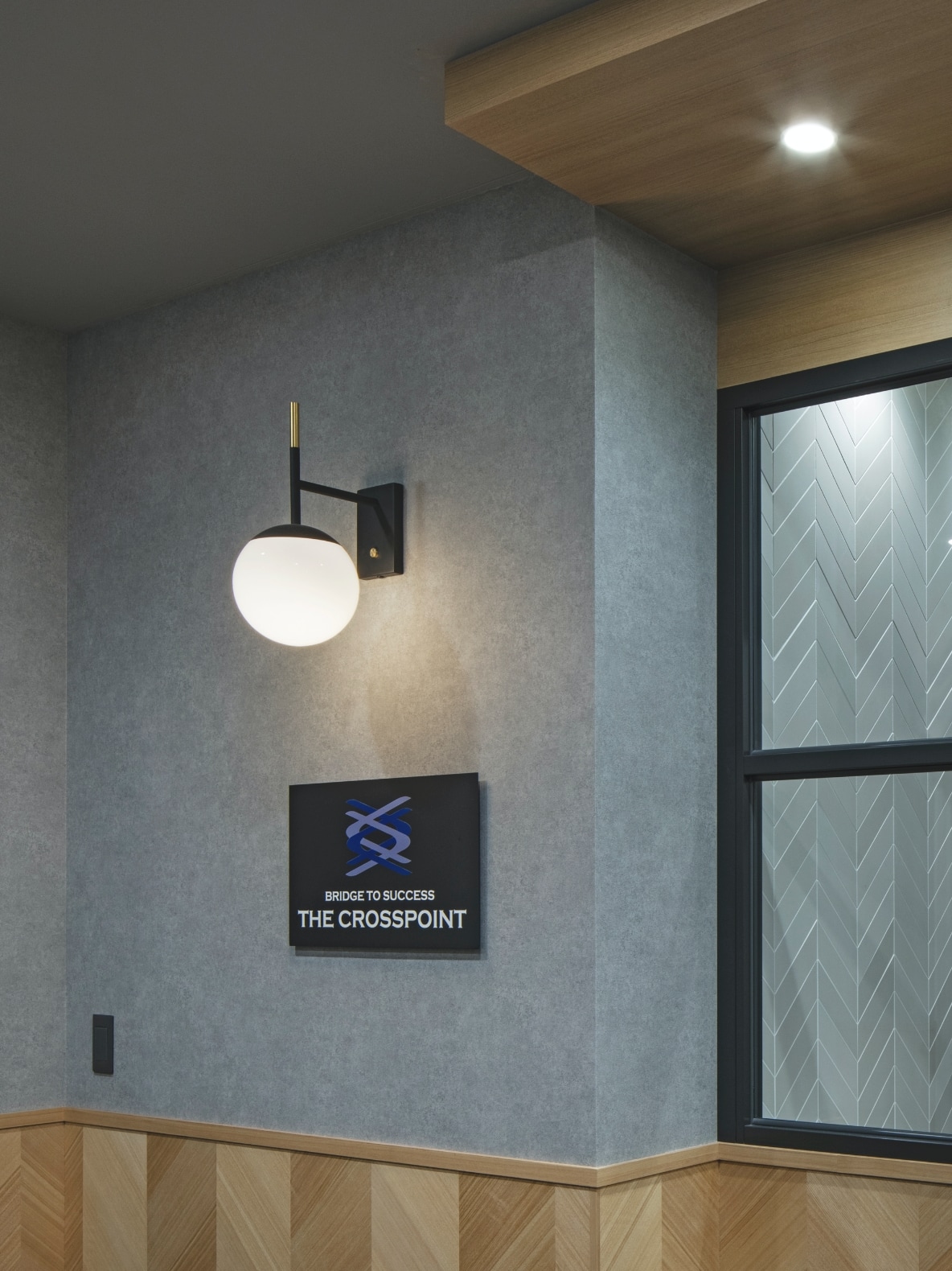 LAUNCH
Since the client provided us with opportunities to discuss the design with them from many different angles, we were able to propose a space with a sophisticated interior design and a high level of functionality. Moreover, after completion, the facility was accredited by the Tokyo Metropolitan government as a safe and reliable business incubation facility. We look forward to witnessing the inception and success of companies that will inspire others and contribute to making society a better place.
PROJECT FLOW
Clarification of requirements

To clarify requirements for a business incubation office, we consulted relevant people and organizations regarding subsidy requirements, business launch timeline, interior design, and documents required to be submitted. We conducted on-site surveys and measured everything we needed to check to see if there were any discrepancies with the received materials.

Basic plan

We held discussions within our company and set the general direction for the design, with the target users in mind. We prepared perspective drawings and proposal documents.

Implementation design

We examined the layout and the number of individual rooms to become eligible for applying for the Tokyo Incubation Facility accreditation. We also calculated the rent and considered it when designing the property.

Cost adjustment

Together with the implementation budget, we adjusted the total renovation cost to be indicated in the business plan.

Development preparation

In preparation for submitting an application to the Tokyo Metropolitan Small and Medium Enterprise Support Center, we prepared and checked the application documents. Working with the building management company, we made pre-construction preparations such as visiting and greeting other tenants and posting the construction schedule and announcements.

Construction work and work environment development

We proceeded with the construction work by checking the progress and the specifications with the client as needed. We had the Tokyo Metropolitan Small and Medium Enterprise Support Center conduct a completion inspection, observed their on-site inspection and answered their questions to have them determine whether the facility satisfied the requirements for Tokyo Metropolitan government's accreditation.

Management support

We prepared a guidance board for the tenant and made arrangements for IT and audio-visual equipment necessary for running the facility.
PROJECT DATA
Client: Tokyo University of Science Investment Management Company
Project: CROSS POINT IIDABASHI
Business: 3rd Place Construction
Role: Project Management / Design / Construction
Completion Date: 2020.09
Size: 605.2㎡
Location: Chiyoda-ku, Tokyo
CREDIT
Project Management

Frontier Consulting Co., Ltd.
Design

Frontier Consulting Co., Ltd.
Construction

Frontier Consulting Co., Ltd.
Photograph

Kenta Hasegawa
BACK TO ALL
CONTACT
If this project got you interested, please do not hesitate to contact us.
Our specialized staff will be glad to answer any of your questions.