DENTSU MEITETSU COMMUNICATIONS INC.
Project Management / Design / Construction
WORK PLACE
2022.03
1,006.5㎡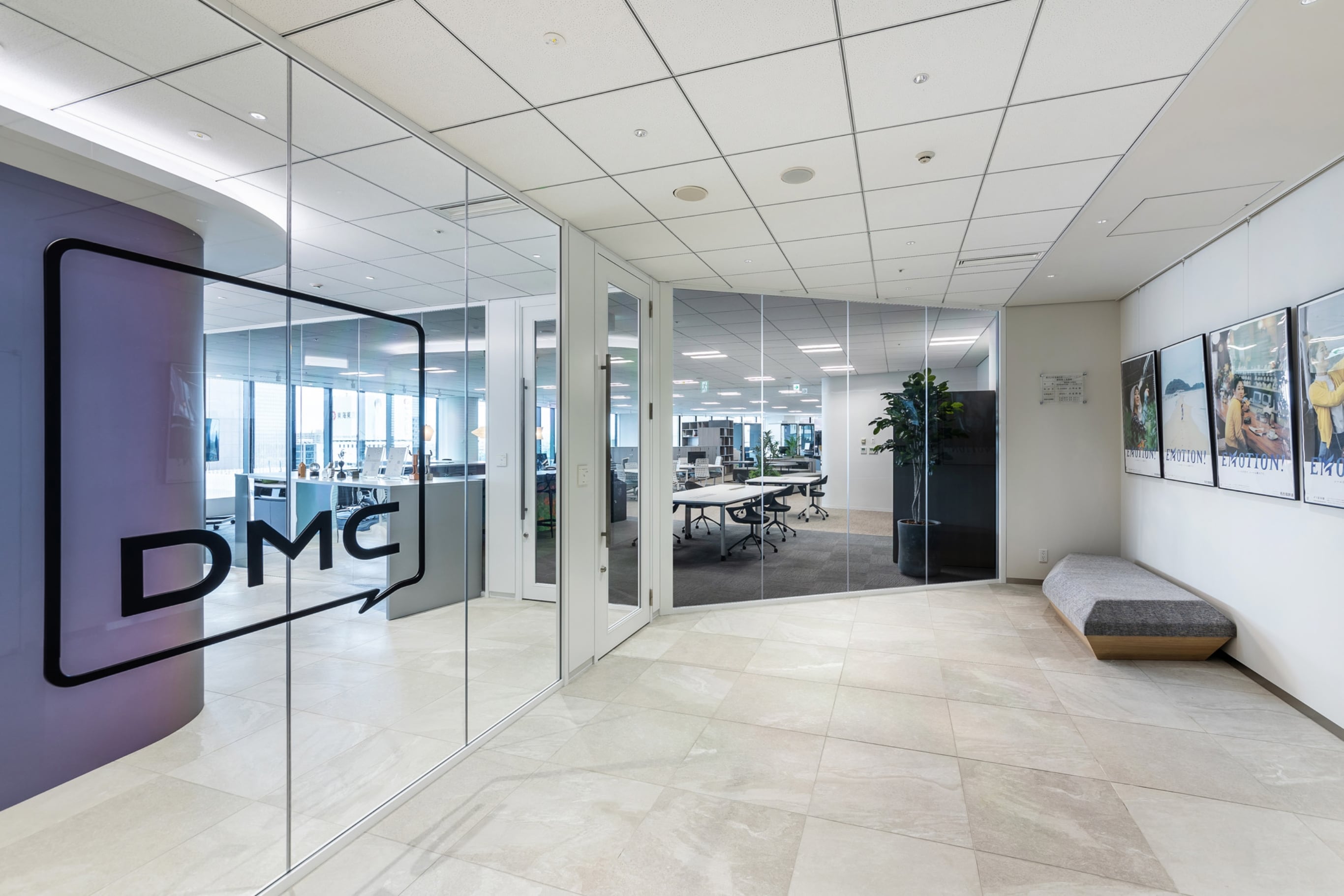 A place with "movement" and "diversity" necessary for creating and transforming values
With the relocation of the head office of Dentsu Meitetsu Communications Inc. ("DMC"), a general advertising agency based in Nagoya, we were entrusted with the development of DMC's new workplace. Accommodating diverse styles of work by adopting an ABW approach, the new workplace in many ways reflects DMC's vision of "making Nagoya the most energetic city in Japan."
CONCEPT
For this project, we came up with the concept of "kaleidoscope" to reflect the idea of "always creating a new DMC by allowing diverse talent to work both collaboratively and individually" like a kaleidoscope in which colorful gemstones change their appearance from moment to moment through reflection in the mirrors. The way people work at DMC, a company that creates and transforms values through advertisement, is the very thing that builds the future. To that end, we thought the new workplace should embody "movement" and "diversity" reflecting the ever-changing world.
PLANNING
DMC wanted to adopt the ABW approach at the new office to allow its employees to freely choose when and where they work. We also needed to develop a layout in such a way as to not let different work styles be mixed together in a single space. So, we divided the main space into four zones depending on purposes—"Interaction" is for facilitating communication, "Active" is for working in a team through active discussion, "Concentration" featuring web conference booths is suited for solo work, and "Confidentiality" is perfect for ensuring security.
DESIGN
The main features of the interior and furniture are the walls with a holographic pattern that you can see from the entrance, as well as the interior adorned with the traditional crafts unique to the three prefectures of the Tokai region. The walls made with a polarizing material, which changes its colors depending on the angles of incoming light and on where you see it from, represent the project concept. Being inspired by DMC's vision of "making Nagoya the most energetic city in Japan," we incorporated crafts such as the Arimatsu tie-dye patterns, Tokoname ware, Suzuka ink, and Mino style Japanese paper to highlight the characteristics of the Tokai region centering on Nagoya.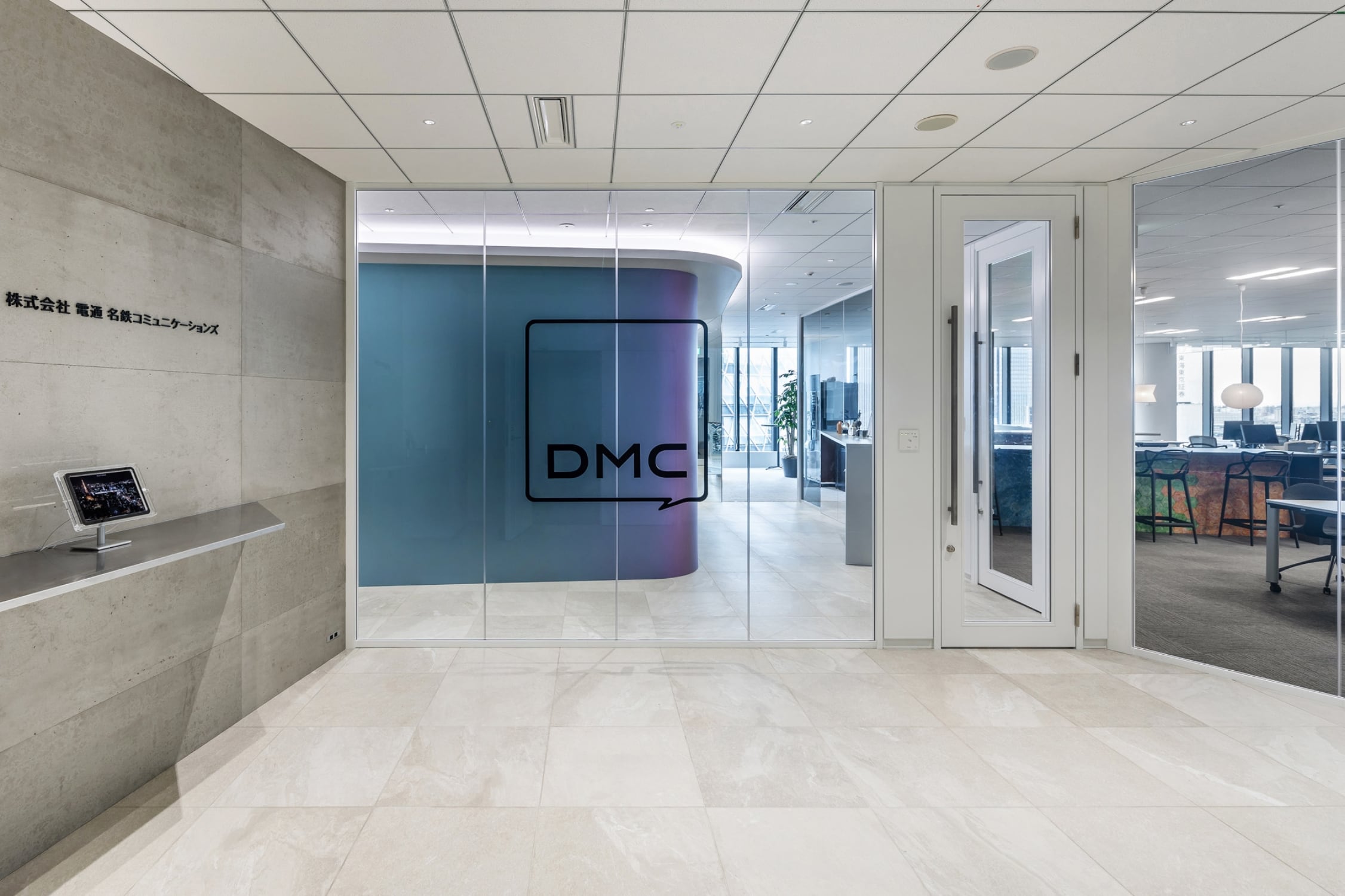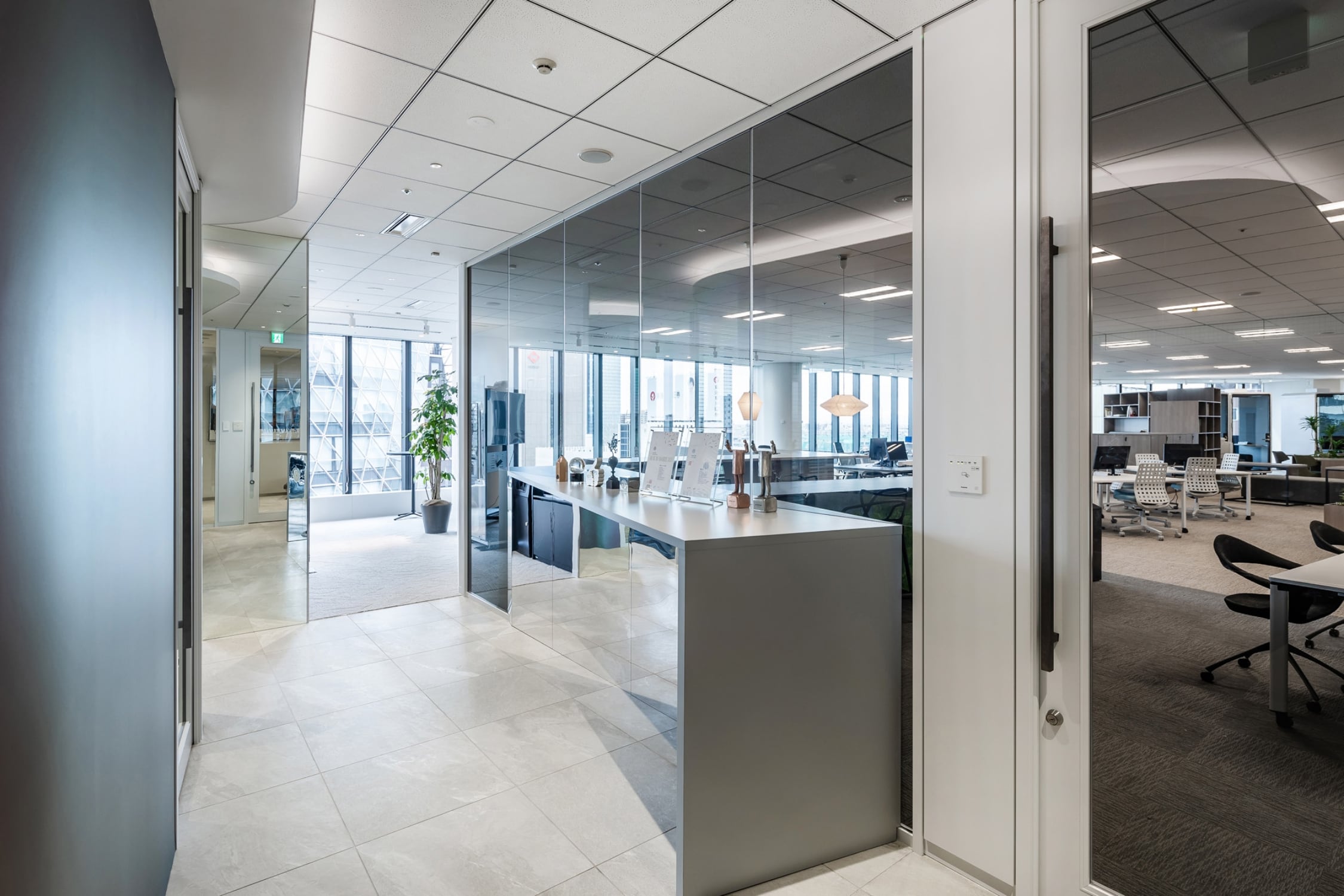 We chose white and gray as the overall base colors to make the holographic walls and the traditional craft decorations stand out. Plus, the creative ideas DMC develops through their advertisements change their colors from one project to another, so we chose these colors to avoid creating a specific image.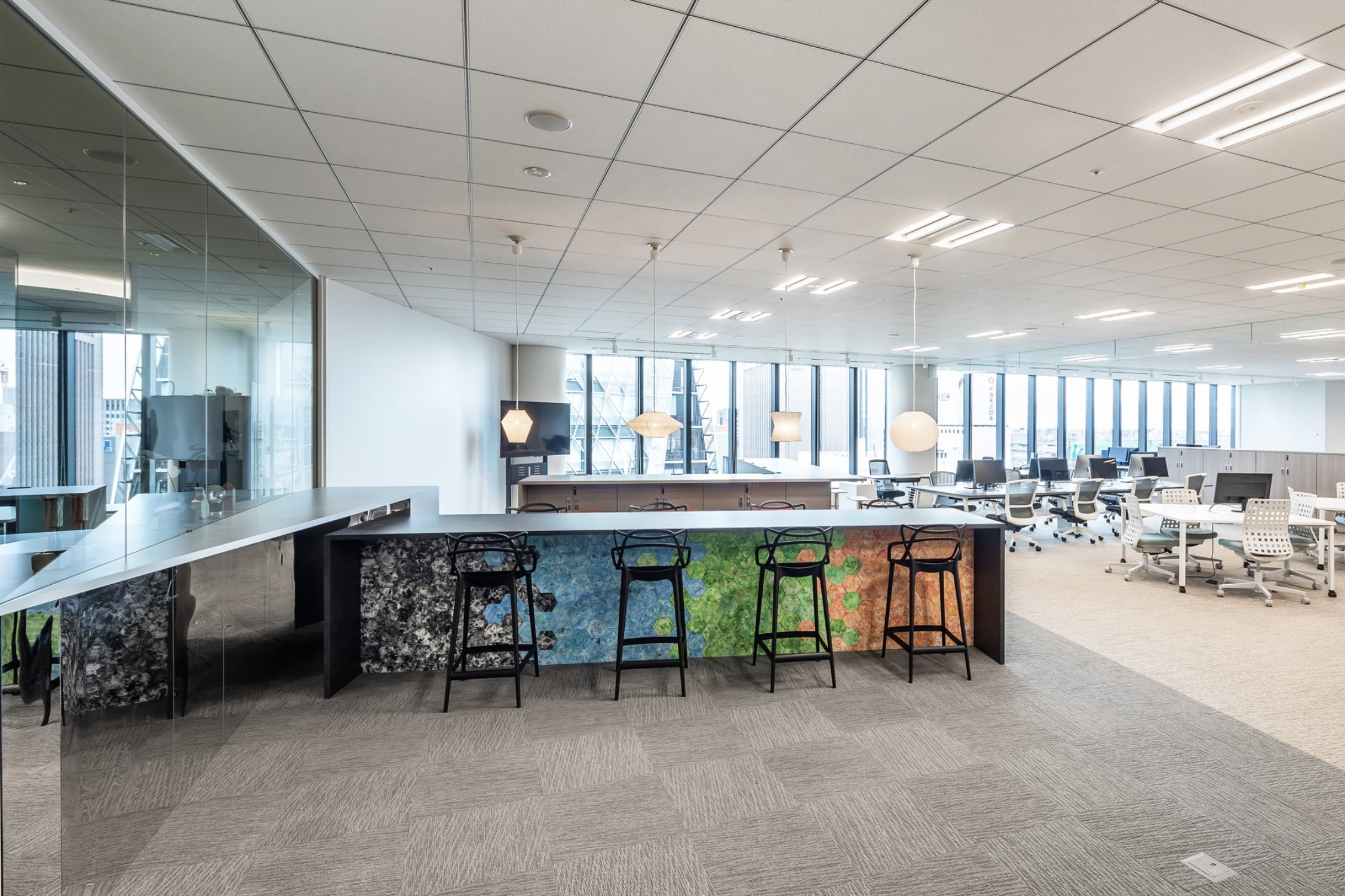 For the café counter wall, we installed tiles in different colors made with reused ocean plastic waste, in order to raise awareness of environmental issues. Above the counter, we installed pendant lights made with Mino style Japanese paper.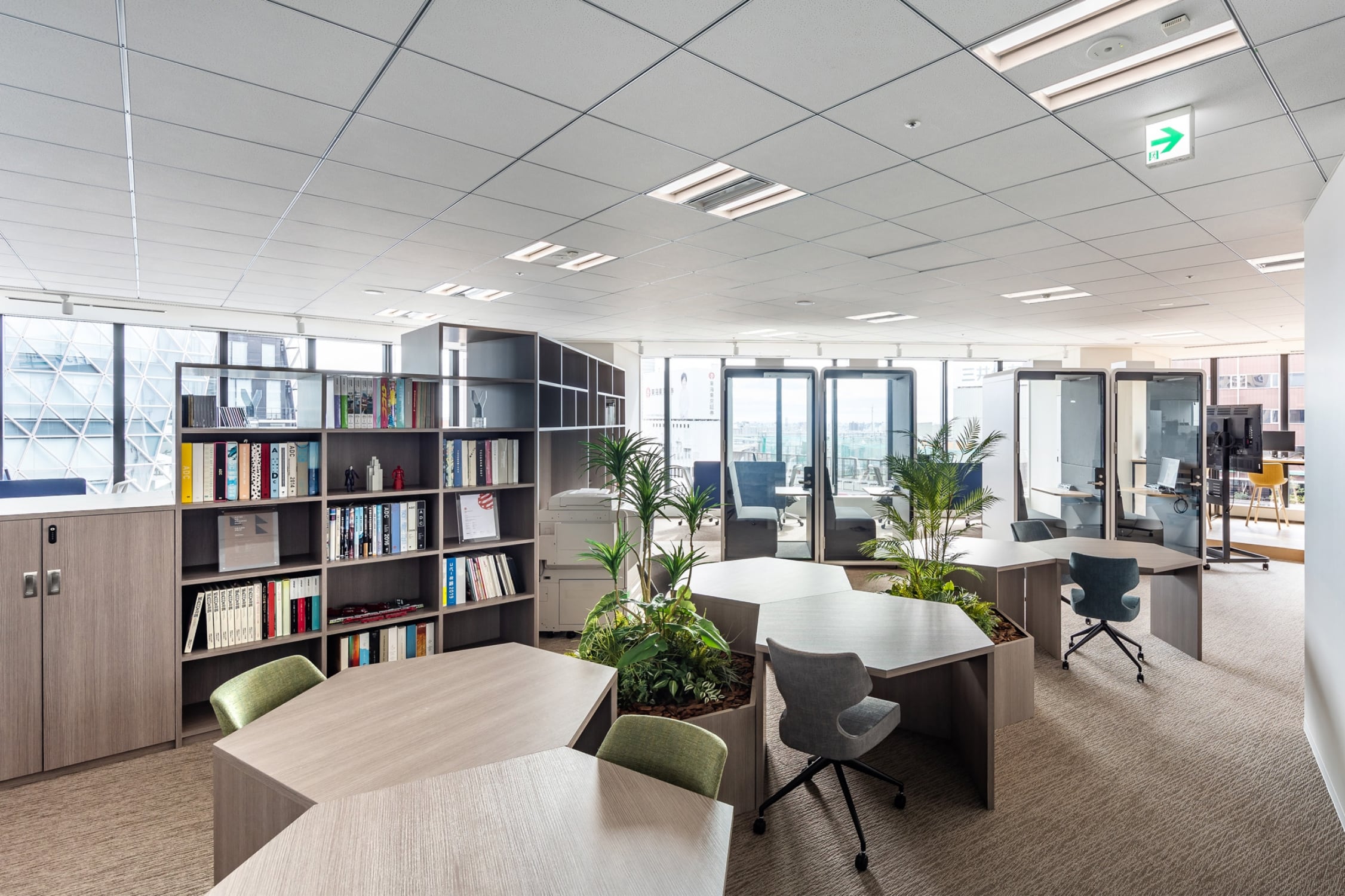 The bespoke hexagonal tables, which evoke the project concept, create a sense of movement within the space, as the sense of distance between people and things changes depending on where you sit.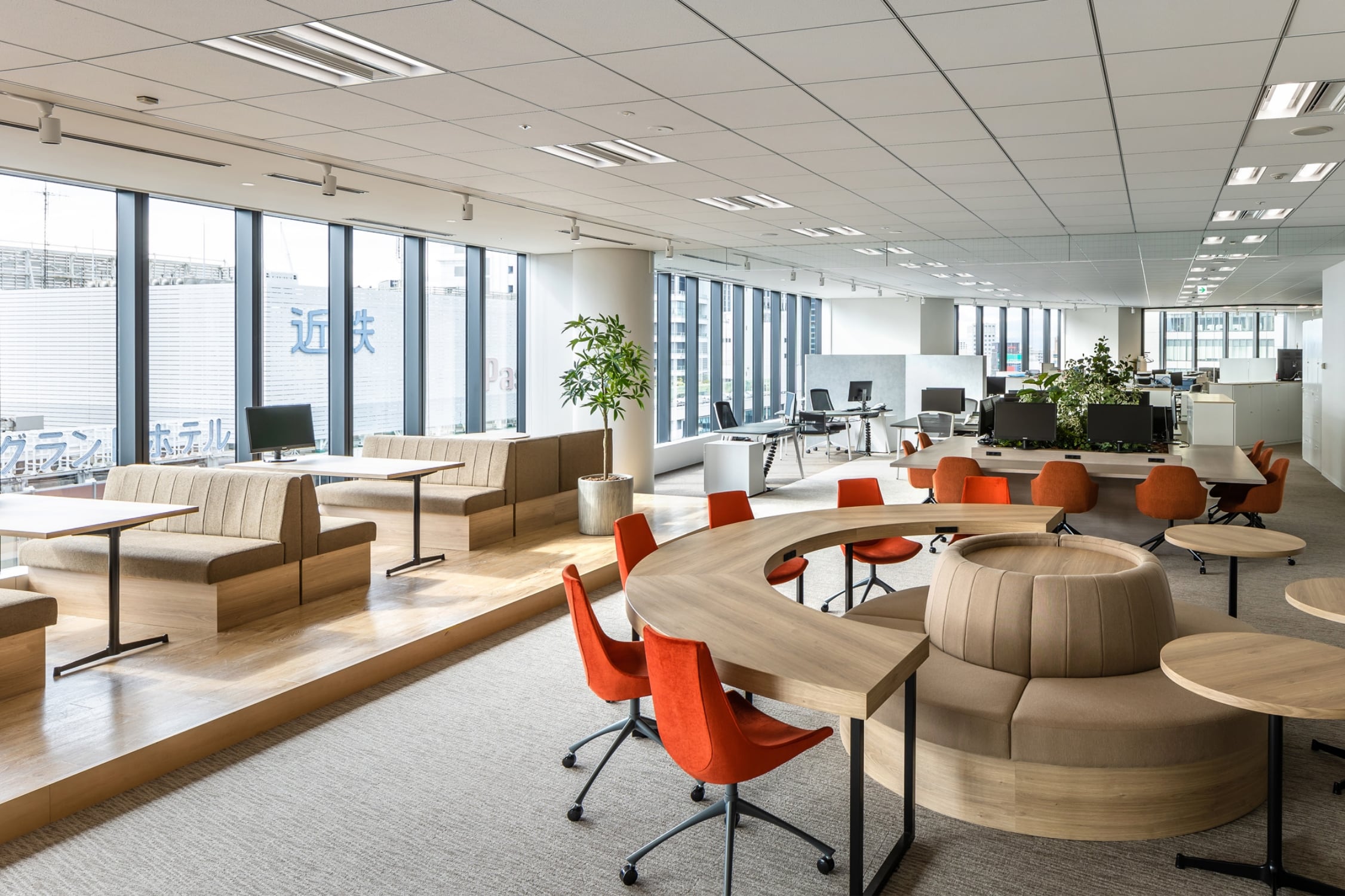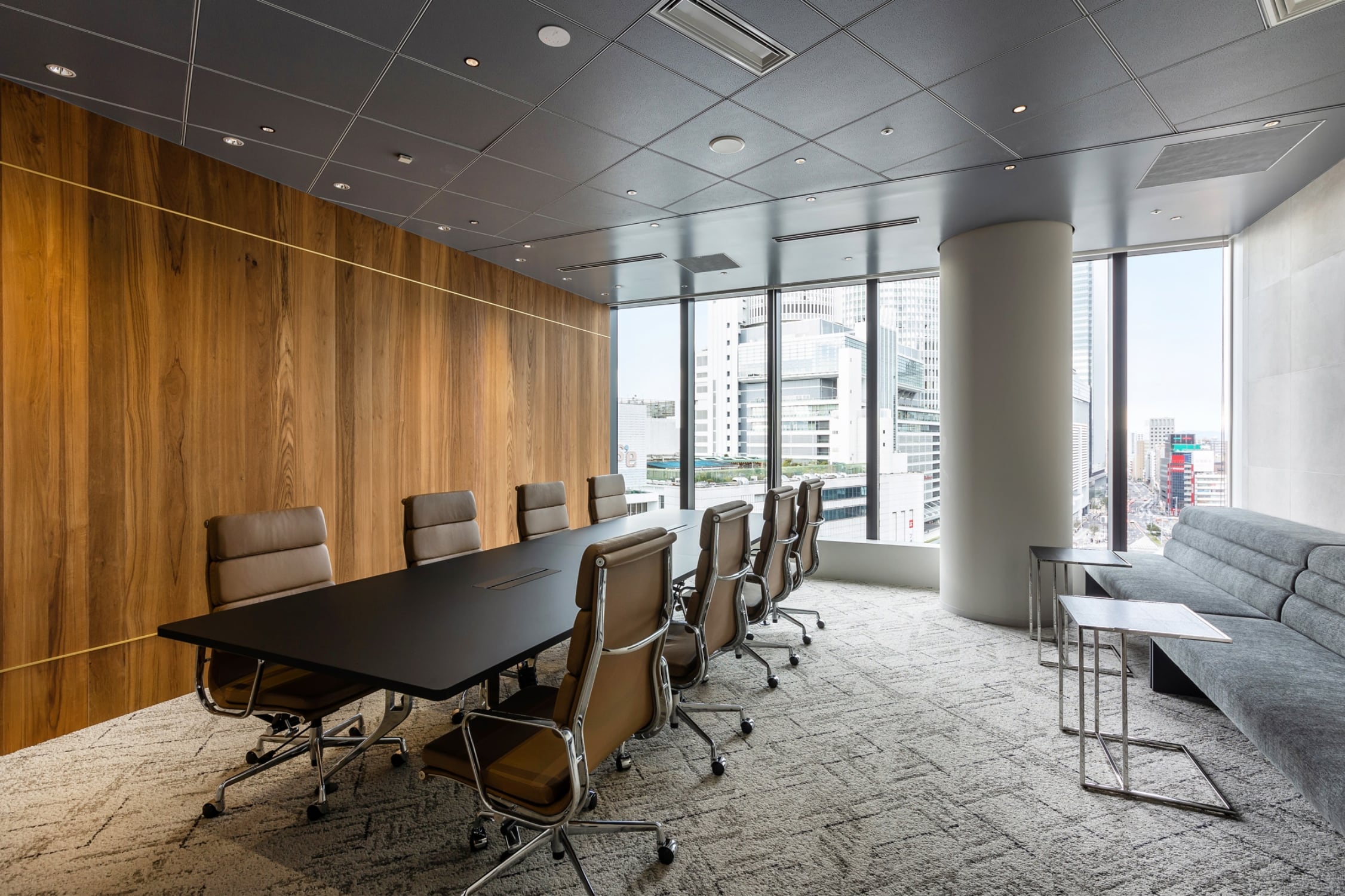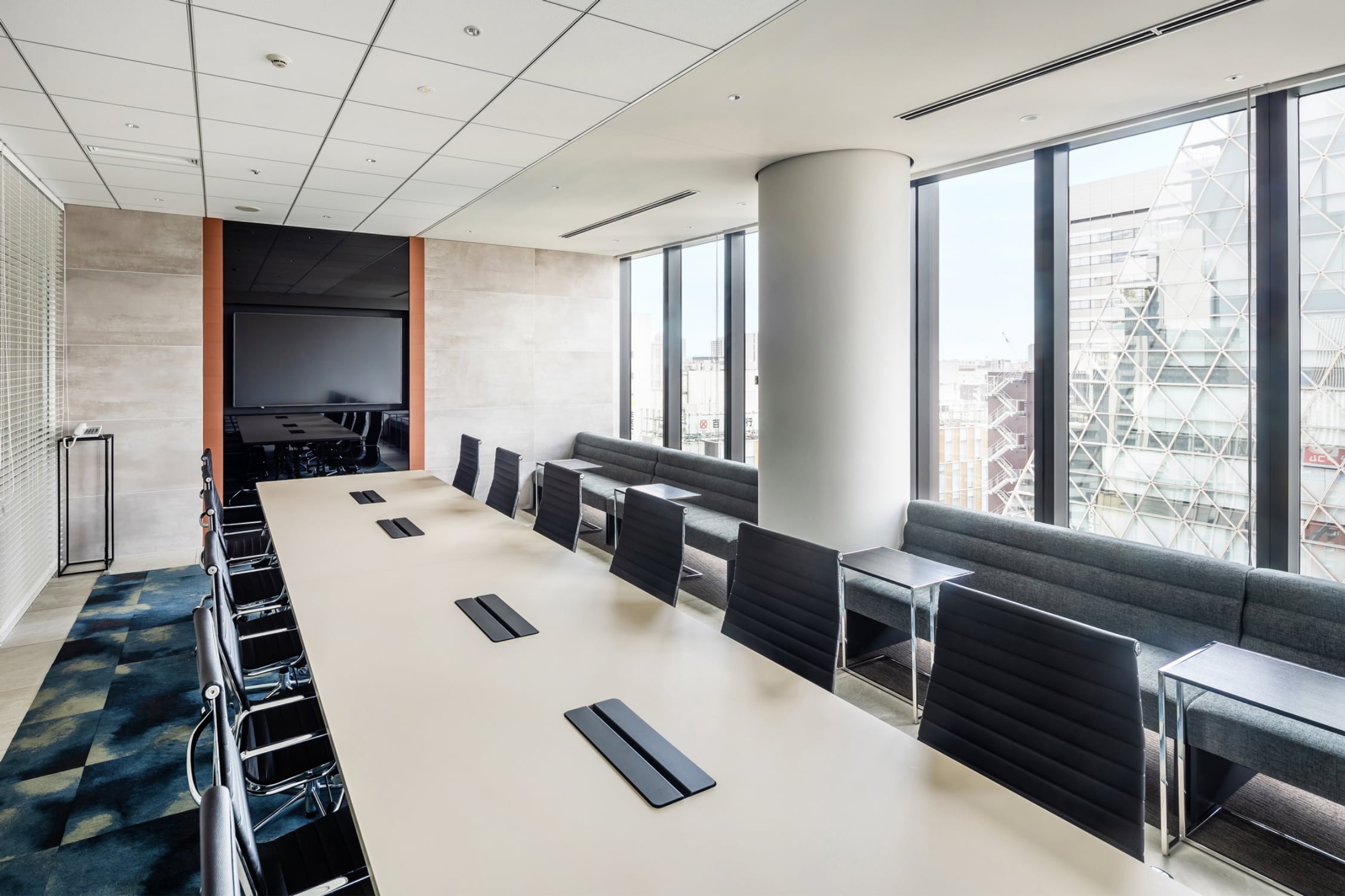 For the wall in the large meeting room, we used Tokoname ware tiles made in Tokoname City, Aichi Prefecture. The reddish-brown lines add a nice accent to the space.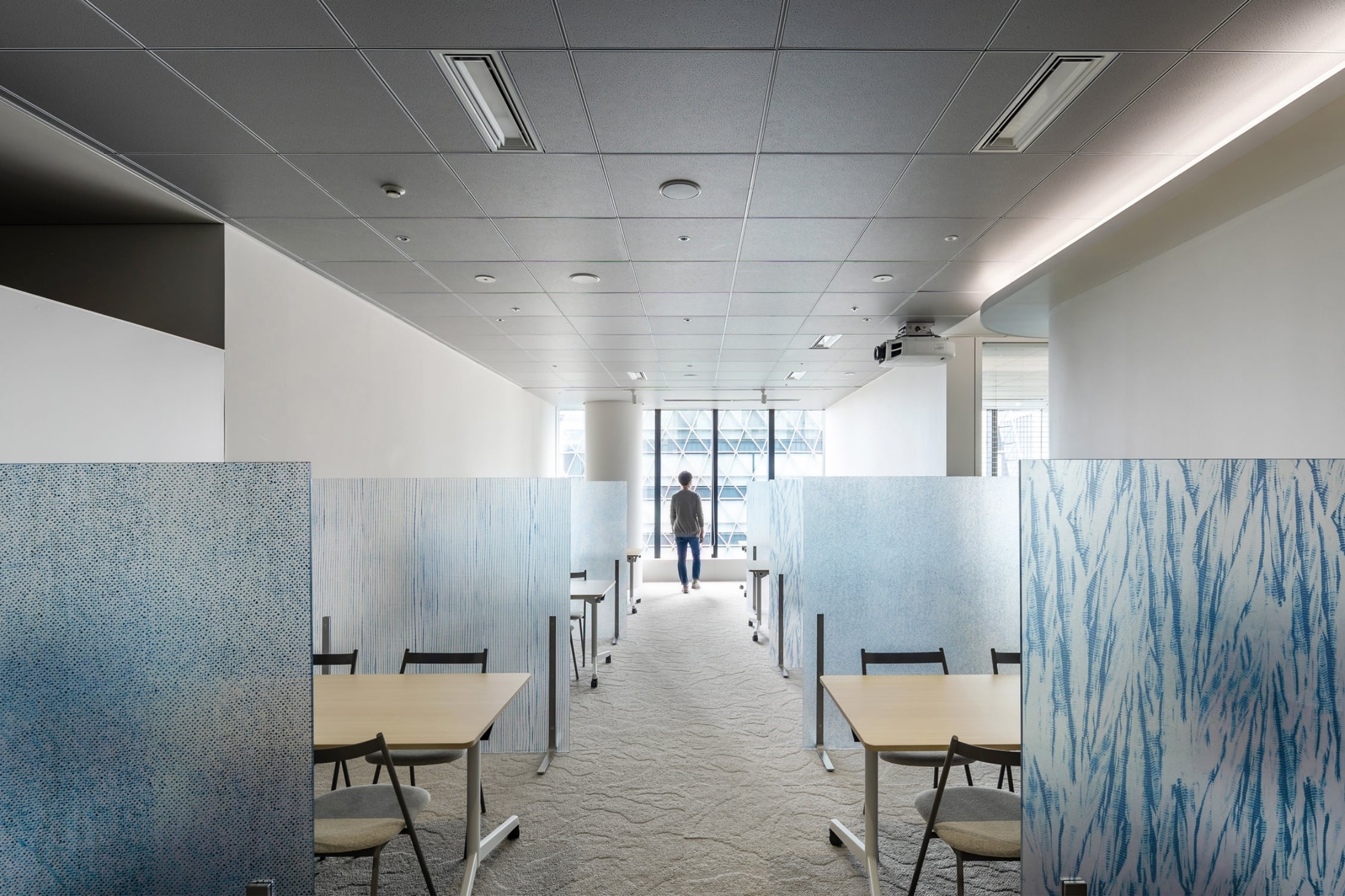 The partitions set up in the open meeting space feature patterns used in the traditional Arimatsu tie-dye technique, which is unique to the towns called Arimatsu and Narumi in Nagoya.
LAUNCH
Although we had worked on many ABW-based workplace development projects, we had hardly ever designed a space with this much playfulness. To ensure a high level of quality in such a project, not only did we try to have a clear image of the movement of gemstones that form shapes through their interaction with mirrors in a kaleidoscope, we also, for every aspect of the project, thought about the relationships among different zones and how they would affect their surroundings. So, when we saw DMC's employees utilizing all the zones when we visited their new office, we felt truly grateful for being given such a wonderful opportunity to facilitate free and diverse work styles.
PROJECT FLOW
Interviews

We interviewed the key persons to clarify conceptual elements such as their hopes for the new office and their corporate vision for the future. We also interviewed other staff members for more concrete aspects such as features they looked for in the new office as well as the issues they had with their then office.

Workshop

We held a workshop titled "The Five Things That Constitute the 'Now' and 'Future' of DMC," asking DMC's staff members what they think the "people," "work styles," "atmosphere," "philosophy," and "uniqueness" that constitute DMC are from two perspectives, now and the future, to help them verbalize and clarify their thoughts about the company.

Basic plan

Diverse workspaces, a non-uniform and creative layout, and a varied and multi-faceted space—these are the key elements of the basic design. While adding playfulness by modifying the shapes of partitions and furniture, we incorporated a variety of spaces so that the new office would be able to accommodate the diversifying work styles.

Implementation design

We considered small details and carefully determined the specifications of bespoke furniture. Many pieces of bespoke furniture were used in this project, and we designed each piece meticulously. Moreover, we pursued quality not only by carefully selecting the colors and patterns of traditional crafts, but also by repeatedly studying how each material would look and making samples, for example.

Cost adjustment

The initial cost exceeded the budget significantly, so we changed the materials and other items while maintaining design quality and cut costs of construction work that was not included in our contract.
PROJECT DATA
Client: DENTSU MEITETSU COMMUNICATIONS INC.
Project: DMC - Headquarters
Business: Work Place Construction
Role: Project Management / Design / Construction
Completion Date: 2022.03
Size: 1,006.5㎡
Location: Nagoya-shi, Aichi
Category: General Advertising Agency
CREDIT
Project Management

Frontier Consulting Co., Ltd.
Design

Frontier Consulting Co., Ltd.
Construction

Frontier Consulting Co., Ltd. / MITSUI Designtec Co.,Ltd.
Photograph

Hoonoki-Syashinshitsu
BACK TO ALL
CONTACT
If this project got you interested, please do not hesitate to contact us.
Our specialized staff will be glad to answer any of your questions.